Germany's Adrian Sutil and Frenchman Jules Bianchi, rivals for the coveted last remaining seat on the Formula One grid with Force India, will both test for the team in Barcelona this week.
The team said on Monday that Sutil, the team's former driver who was dropped at the end of 2011 after being convicted of grievous bodily harm, would be in the car on Thursday with Bianchi testing on Friday at the Circuit de Catalunya.
Britain's Paul Di Resta, the team's only confirmed race driver at present, will start the second pre-season test on Tuesday and Wednesday.
A team spokesman said the test was not a 'shoot-out' between the two candidates, however.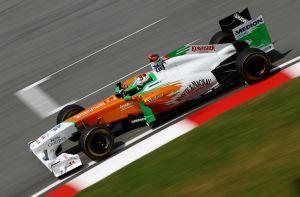 "No, it's not a shoot-out," he said. "It's just two drivers helping the team with this week's test. I don't think it should be perceived as such, that's not the intention."
The vacancy, at a team aiming to score regular points and challenge for the podium, arose after Germany's Nico Hulkenberg moved to Ferrari-powered Sauber at the end of last season.
Sutil, who first raced for the team in 2007 when it was called Spyker, had a seat fitting at the Silverstone factory last week.
His return has been mooted for months but Force India have stalled on any announcement, amid reports that they were looking to see who had most financial backing.
This week's test could be the 30-year-old's last chance of a comeback.
The German was given a suspended 18-month sentence and fined 200,000 euros last year for a post-Chinese Grand Prix incident in a Shanghai nightclub in April 2011 that left a Renault team executive nursing cuts from a champagne glass.
Bianchi tested with Force India in Jerez this month and was the team's reserve last year. The 23-year-old is also a member of Ferrari's driver academy, with the Italian team keen to help him into a race seat.
The season starts in Melbourne, Australia, on March 17.
Photograph: Paul Gilham/Getty Images