Lewis Hamilton has denied reports that he is closing in on a deal with Mercedes. "There's no truth in the stories," said the McLaren driver.
"At the moment my only focus is on winning the championships," he added.
Besides being in the news for his recent exploits on the track, the British driver has also been making the headlines off it, with speculation rife that he is closing in on a multi-million deal with Mercedes (formerly Brawn).
In fact McLaren boss Martin Whitmarsh, having earlier admitting the team had no 'Plan B' should Hamilton leave, confirmed on Saturday that the constructor have signed Mexican Sergio Perez as the back-up driver leading to speculation about Hamilton's future.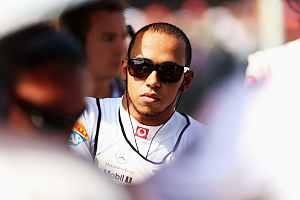 The driver though remained unperturbed. "There's a lot if speculation and most of the stories aren't true," said Hamilton.
The former world champion, who has won two of the last three races (in Hungary and Italy) to move up to second behind Ferrari's Fernando Alonso in the driver's championships, said he was trying not to heed to the rumours floating around.
"I've been with McLaren since I was 13. I can't be disturbed by all this rubbish and let them affect my title challenge," said Hamilton.
The Briton though admitted there were issues between him and the team that need to be addressed.
"I need to get a few things sorted out of course," he said.
Now that's a statement that will give rise to further speculations.
Photograph: Mark Thompson/Getty Images