Kamui Kobayashi, Japan's only current Formula One driver, is hoping a website campaign can help raise the funds to keep him on the starting grid next season after being dropped by the Sauber team.
Speaking to reporters at the season-ending Brazilian Grand Prix on Friday after Sauber announced Mexican Esteban Gutierrez would be taking his place in 2013, Kobayashi did his best to sound confident.
"We see I think still some seats that are available so we try to get a seat," he said.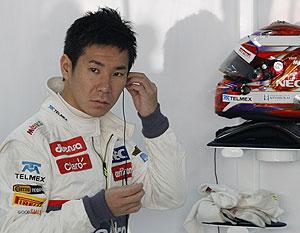 "If we can find some sponsors I think it is easier."
Kobayashi said money, or rather his lack of it, was "the main issue for sure" in why Sauber, who have several Mexican sponsors, had opted for Gutierrez alongside Germany's Nico Hulkenberg.
"This is Formula One," shrugged the Japanese, the son of sushi restaurant owner, who arrived in Formula One with Toyota support but no other backing and joined Sauber when the carmaker pulled out at the end of 2009.
"For Sauber it is my last race but for myself I think it is different.
"Everybody looks really worried but I don't really worry at the moment, I try to work hard to get sponsors and find out what's available for next year's seat."
Kobayashi, an extrovert overtaker, has huge popularity in Japan after finishing third for Sauber in his home race at Suzuka this season but he has suspected for some time that he would not be kept on at the team.
He said he was trying to harness some of the goodwill at home through a 'www.kamui-support.com' website, with the url posted on his Twitter account to 93,000 followers, offering wristbands in exchange for a donation.
"Suzuka had more than 100,000 people at the race... over the three days we had 200,000," said Kobayashi, comfortably Japan's most successful Grand Prix driver by career points scored.
"I think we have a lot of potential to get some money from the fans as well. It has been just two days but it's going to help my career for sure."
Force India, Caterham and Marussia still have seats available but all have made it clear that they are looking for sponsorship money as part of the deal.
Photograph: Vivek Prakash / Reuters