Germany's Sebastian Vettel became Formula One's youngest double world champion on Sunday after finishing third in a Japanese Grand Prix won by British rival Jenson Button.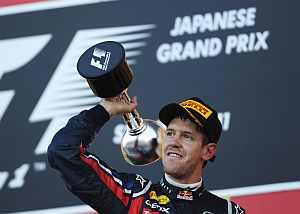 The 24-year-old Red Bull driver had needed just a point to clinch his second successive crown while Button had to win at Suzuka to have any hope of keeping the championship open for another weekend.
Vettel, who became only the ninth driver to win back-to-back crowns, had started from pole position for the 12th time this year. With four races remaining, he leads Button by an insurmountable 114 points.
Ferrari's Fernando Alonso finished second in the race.