It may not be the same as inaugural year in terms of response, but the second Indian Grand Prix still recorded a turn out of 65,000 spectators, which included the who's who of tinsel town, politics and sporting fraternity.
-Indian Grand Prix is very special: Vettel
Unlike last year that witnessed a whopping 95,000 turn out, response was luke warm this time around but buzz and enthusiasm surrounding the race was pretty good.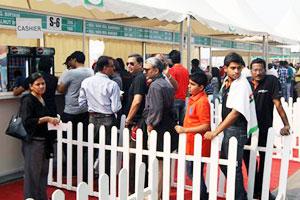 Even though the orgainsers had slashed the ticket prices as compared to last year, it failed to generate a similar presence at the 1,20,000-capacity Buddh International Circuit.
-Focus, discipline are ingredients of my success:Vettel
However, the organisers of the race, Jaypee Sports International Limited were happy with the crowd presence.
-Photos: Harbhajan Singh at Indian Grand Prix
"Though it is less than last year, we are happy with the turn out. Slowly and steadily the F1 craze is increasing in India," said Manoj Gaur, executive chairman of Jaypee Group.
But, the crowd turn out had very little impact on the event as those present had a great time. Apart from an enthralling race, they were also treated to a concert by singer Shaan and music composer Vishal and Shekhar, who performed at the F1 village area before the start of the race.
Photograph: Buddh International Circuit