McLaren Mercedes might not have the best of the free practice sessions on Friday, but its drivers -- Lewis Hamilton and Jenson Button -- have already set their sights on tomorrow and said a good qualifying race will be key to the team's success in Sunday's race.
Both Button (1:27.182) and Hamilton (1:27.131) improved their FP1 timing in the afternoon but still the two McLaren Mercedes cars could only set the sixth and seventh fastest timings of the day.
- India GP: Vettel fastest in practice
Defending champion Sebastian Vettel emerged as the fastest driver in both the practice sessions with teammate Mark Webber finishing a close second, as Red Bull put up an impressive show in the free practice sessions.
Ferrari's Fernando Alonso was third quickest.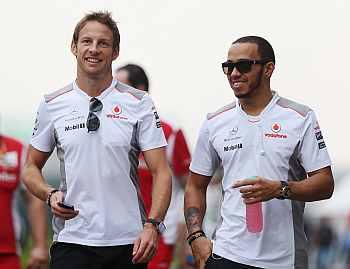 However, Hamilton sounded optimistic and said with little bit of improvement, the two McLaren Mercedes cars can match the likes of Red Bull and Ferrari at the second edition of the Indian Grand Prix.
"It was not a positive day on my side, I wasn't quick enough. It is looking quite good for Lotus and Red Bull. Our race pace is not that bad, but could have been better," Hamilton said.
"Red Bull was just too quick. Red Bull is very hard to beat. Ferrari, Red Bull and Lotus are very quick in long runs but I think we are right there with them. The qualifying will be key. So it is going to be a very close race," said the Briton.
Button agreed with his teammate and summed up his practice sessions today as "tricky".
"It was tricky for me because we had a gear shift problem. I have really enjoyed here but it's been tricky today. Hopefully we can improve in the days to come," Button said.
"We both (me and Hamilton) struggled. I just felt we didn't have a lot of grip but I think we are still lot closer.
"The qualifying is always important. Qualifying is probably the more difficult race. So we want to qualify well here," he signed off.
Photograph: Mark Thompson/Getty Images