Lewis Hamilton took pole position, his third of the season, at the Hungarian Grand Prix on Saturday after dominating the two days of practice.
His McLaren team mate and fellow Briton Jenson Button will start on the second row after producing the fourth fastest time in hot sunny conditions at the Hungaroring.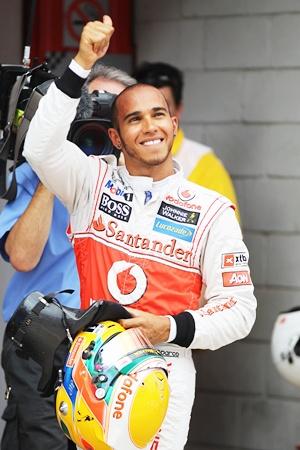 Frenchman Romain Grosjean of Lotus produced the second fastest time in qualifying followed by Sebastian Vettel of Red Bull.
However, Vettel's Red Bull teammate Mark Webber, second in the world championship, will start on the sixth row after failing to make the cut for the third stage of qualifying and finishing 11th.
Seven-times World champion Michael Schumacher also failed to make the third stage.
World championship leader Fernando Alonso of Ferrari was sixth fastest.
"It is great to finally see the upgrades working and I have been able to put the car where I want to this weekend," said 2008 world champion Hamilton, who has won in Hungary twice before.
"We are not saying we are relaxed, we know we have a lot of work to do, starting this weekend," added Hamilton, who has failed to score points in his last two outings and is fifth in the championship.
Vettel said: "Lewis was out of reach today, it's not too bad to start third here."
"It has been more a case of it being difficult getting everything to work properly," he said.
"The speed is there but it has been a struggle to get the balance. I think with the progress we have made we should be in a good position tomorrow."
Photographs: Mark Thompson/Getty Images