Sahara Force India team principal Vijay Mallya was a satisfied man after his team achieved the target of registering points in the inaugural Indian Grand Prix with Adrian Sutil managing to bring home the car inside the top 10 bracket, in Greater Noida, on Sunday.
Even though Mallya wanted both his drivers -- Sutil and Paul di Resta -- to finish among points at the Buddh International Circuit, only the former could secure two points for the Silverstone-based team by finishing on the ninth position after starting eighth on the grid.
"I'm very satisfied (with the result). In F1 what good thing can you expect then finishing on top-10. You also need to look with whom you are competing with," Mallya said.
"Indian GP was fantastic. It got universal appeal. We targeted points and that's exactly what we delivered with Adrian's excellent drive to ninth. These two points are important for our championship battle and I'm delighted that Sahara Force India will go down in the record books for scoring points in the inaugural Indian Grand Prix," he said.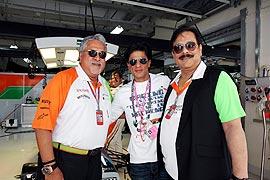 However, on the broader side, it was little disappointing for Force India as Di Resta finished outside the points bracket even though he improved two places after starting 15th on the grid.
"As for Paul, he performed well, but we went very aggressive with the strategy to cover the chance of a safety car. In the end it didn't work out, but we needed to cover our bases," Mallya said.
Asked about his expectations from the remaining two races of the season, Mallya said his team would give their best to achieve the fifth place in the constructors' championship which is presently being held by Renault with 72 points, 21 points ahead of Force India.
"We will do our best but sport doesn't run on expectations. This year we have got a car which can run on all tracks," Mallya said.
"May be Abu Dhabi would be a different story. We expect our car to be competitive in Abu Dhabi because of down force there and it is also not that quick. We showed our potential in Singapore with both the cars finishing among points."
Mallya also said the newly-built BIC has the potential to become one of the best racing circuit in the world.
"I loved the track. It has fantastic facilities. I won't be surprised if it becomes one of the three best tracks in future. My drivers have also told me they loved the track."
Sutil said the ninth place finish was a satisfying result considering that he initially struggled with his VJM04.
"It was quite a good race and I think we can be happy with the two points today. In the early laps I struggled with the rear of the car, with a bit of oversteer, and could not hold off the Toro Rossos who were a bit quicker today. But in the second and third stint the car balance improved and I was able to keep the Sauber (Sergio Perez) behind me in the closing laps.
"We were also fortunate that (Sebastian) Buemi retired, which gave me another position. I think ninth was probably the maximum today and I hope Vijay will have a smile on his face tonight," the German said.
Di Resta said their plan to go with hard tyres for him backfired but overall he was satisfied with team performance.
"We went for a fairly aggressive strategy today -- starting on the hard tyre -- and it was always the plan to come in early with the hope of a safety car. It was a gamble to get rid of the hard tyre early on, and if it had worked we would have gained a pit stop and done the race on three sets of softs, which was the quickest way," he said.
"We had to do three stops because of the tyre wear, which was quite high to begin with, but got better later. It's good that Adrian has picked up a couple of points, which are valuable for the championship, and that was the reason why we split the strategies," Di Resta added.