Ferrari dealt Fernando Alonso a rare public rebuke on his 32nd birthday on Monday for critical comments after Sunday's Hungarian Formula One Grand Prix.
-Alonso to Red Bull? F1 rumour mill takes a spin
Ferrari president Luca di Montezemolo admonished Fernando Alonso after the driver told him that he would like someone else's car as a birthday present.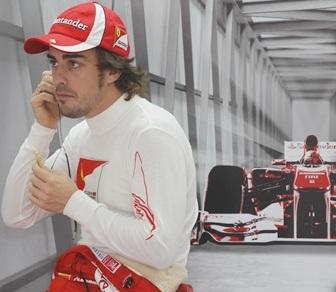 In a blunt assessment, the Ferrari website said Alonso's comments "did not go down well with Montezemolo, nor with anyone in the team" and said the president had "tweaked" the driver's ear in their conversation.
According to BBC, A Ferrari statement declared that Di Montezemolo reminded Alonso that all the great champions who had driven for Ferrari had always been asked to put the interests of the team above their own.
"This is the moment to stay calm, avoid polemics and show humility and determination in making one's own contribution, standing alongside the team and its people both at the track and outside it," he added.
It is highly unusual for Ferrari to reveal its internal dealings in such a manner and it emphasises Di Montezemolo's strength of feeling about the situation, the report said.
The statement comes a day after it emerged Alonso's manager had had a meeting with Red Bull team boss Christian Horner over the Hungarian GP weekend, the report added.
Image: Fernando Alonso
Photographs: Bazuki Muhammad/Reuters