Formula One chief Bernie Ecclestone had made a corrupt agreement in an attempt to stay in charge of the sport, according to claims by German media company Constantin Medien.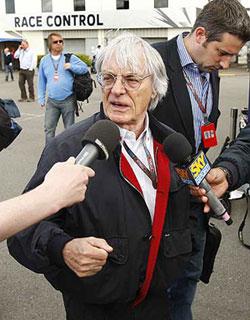 According to the BBC, Philip Marshall QC, representing Constantin, outlined its allegations at the start of a High Court trial in London expected to last several weeks. He said that a banker had assisted Ecclestone to facilitate the sale of the Formula 1 Group to a purchaser chosen by Ecclestone.
Marshall suggested that corrupt payments had resulted in a sale of the bank's investment in a group of companies that owned lucrative commercial rights associated with Formula 1 racing, the report said.
He said payments totalling about 27 million pounds had been made to Gerhard Gribkowsky, who had been a senior ranking official at a German bank, at the instigation of Ecclestone, according to the report. He also revealed that Ecclestone had benefited financially and he said that deal had allowed the current chief to retain a position with Formula 1 going forward, the report added.
He added that there had been a real risk of Ecclestone's removal from his position in the Formula 1 Group, the report further said. The F1 chief executive denies any wrongdoing and his lawyers say the claim lacks merit, the report mentioned.