Paul di Resta earned two points for Sahara Force India at an the incident-filled Formula One Abu Dhabi Grand Prix that also saw teammate, Nico Hulkenberg endure a crash in the first lap of the race on Sunday.
Di Resta finished ninth after starting 12th from the grid but Hulkenberg's race lasted less than a lap as he damaged his car due to an accident at the start.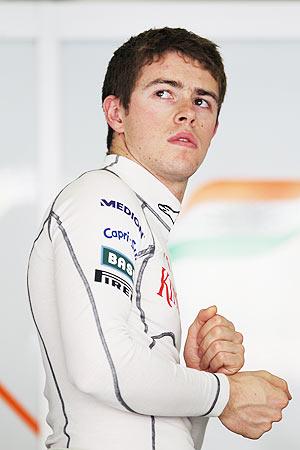 Indian Narain Karthikeyan survived a big accident after suffering a massive crash in lap 8 when Nico Rosberg launched his Mercedes off the back of the HRT of Karthikeyan.
The Indian driver braked early at that corner and Rosberg could not stop his Mercedes from hitting and then flying over Karthikeyan's car.
It was a huge crash -- similar to when Michael Schumacher hit David Coulthard in the 1998 Belgian Grand Prix.
Fortunately, both Karthikeyan and Rosberg escaped unhurt.
Earlier, there was contact between the Hulkenberg and Williams' Bruno Senna and the German's car was badly damaged.
"I think I just had quite a bad start bad run into turn one and got sandwiched and I was halfway between the cars and there was no way out and there was contact," Hulkenberg said.
Force India now have 95 points, 29 behind Sauber and it is highly unlikely that the Indian team can now achieve the sixth place in the constructors' table with just two races left in the season.