Formula One champion Sebastian Vettel roared back to form with pole position at the Hungarian Grand Prix on Saturday after his Red Bull mechanics worked through the night to get his car up to speed.
The German had failed to win the last two races but made sure Red Bull snapped up their 11th pole in 11 races this season, and 12th in a row, with his eighth of the campaign and 23rd of his career.
Australian team mate Mark Webber, second in the championship but a massive 77 points behind Vettel, qualified down in sixth place.
"I felt much more comfortable this morning," Vettel said. "I'm very pleased with the result, we changed a lot on the car overnight. The boys were working pretty hard and didn't get much sleep. I've got the confidence back."
McLaren's Lewis Hamilton, who won in Germany last Sunday when Red Bull's dominance from the first half of the season continued to ebb away, was quickest early on in the final session but had to settle for second on the grid after Vettel's flying last lap.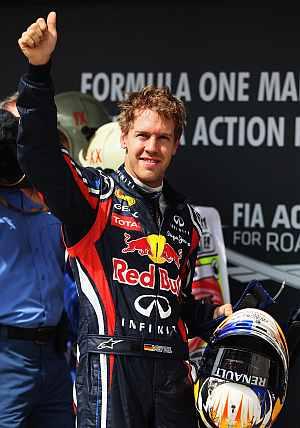 "Still I think it is a great achievement for us. Today they seemed to pick up a bit of pace," said the Briton, twice a winner at the Hungaroring.
Hamilton's team mate Jenson Button was third on the grid for his 200th Grand Prix but double world champion Fernando Alonso could only manage fifth for Ferrari behind team mate Felipe Massa.
Spaniard Alonso, who was 30 on Friday, appeared to be heading for pole on his final lap but again lost time in the final sector as he feared. It was the first time this year that Massa had outqualified the Spaniard.
Vettel also took pole in Budapest last year, when Webber won, but Red Bull had not been sounding confident in the run-up to this race after their recent mini-blip.
As fans filled the stands on the steep grassy bank next to the home straight, the usual suspects were knocked out in Q1 while Sergio Perez surprisingly beat Sauber team mate Kamui Kobayashi in the second session and then qualified 10th.
Seven times champion Michael Schumacher was just ahead of the Mexican rookie as Mercedes team mate Nico Rosberg again outqualified his German compatriot by taking seventh on the grid.
The sun had shone for the day's final practice where Vettel topped the timesheets. However the overcast conditions from Friday, when Hamilton was twice quickest, returned during qualifying.
The forecast for Sunday's race is mixed.