Red Bull's world champion Sebastian Vettel picked up where he left off by dominating qualifying to claim pole position for the season-opening Australian Grand Prix for the second year in a row on Saturday.
The 23-year-old German set the quickest time in all three sessions, blowing away his rivals with a searing lap of one minute 23.529 seconds, some half a second faster than his time last year and 0.778 quicker than Briton Lewis Hamilton.
"Although the gap now might appear to be big, it's a long season and a lot of things can happen," said a cautious Vettel, who failed to finish the race last year.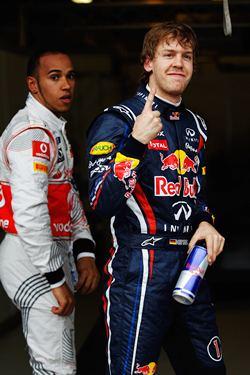 "It's a good position to be in, and I'm very happy with that (but) we need to keep our feet on the ground."
Hamilton's late lap of 1.24.307 in his McLaren knocked Vettel's team mate Mark Webber (1.24.395) off the front row of the grid, leaving the Australian to line up alongside Jenson Button in the second McLaren (1.24.779).
Ferrari's twice former world champion Fernando Alonso claimed a spot on the third row in fifth place next to Renault's Vitaly Petrov.
"If you look at the pace of Sebastian, I mean they're in a different league really in qualifying, whether it's the same in the race I don't know," said Button, the winner here for the last two years.
"We don't really know what our pace is really gonna be like in the race distance yet."
McLaren struggled for reliability in winter testing and Hamilton paid tribute to the "fantastic job" done by the team to give their two British drivers a competitive car.
"Absolutely thrilled to be here today, we've really got ourselves back on track and, although there's a lot of work to do, we laid a fantastic base," the 2008 world champion said.
FERRARI DISAPPOINTMENT
Webber is aiming to become the first Australian to win his home Grand Prix and was clearly disappointed at being so far behind his team mate.
"I'm not overly rapt to be third on the grid," he said. "I wasn't really in the fight for pole and I need to address that."
Nico Rosberg steered his Mercedes to seventh place on the grid ahead of Brazilian Felipe Massa on a disappointing day for Ferrari.
"Position we are happy, distance from pole we are not so happy, so it's what we have to look at analyse tonight," Alonso said.
Michael Schumacher failed to fulfil the promise of good pre-season testing with Mercedes when he was unable to get through to the final session of qualifying by 0.089 seconds despite a late flying lap.
"After testing, coming to the first race we had expected certainly a different performance so naturally there is some disappointment," the seven-times world champion, who will start 11th, told the BBC.
"We don't match this performance here and we need to understand why we don't and that's going to be the major job that we have in front of us."
HRT's Vitantonio Liuzzi and Narain Karthikeyan failed to get within 107 percent of the best time in the first qualifying session so will not be allowed to race on Sunday, although they can appeal to the stewards.
The start of the season was delayed by two weeks after the Bahrain race was called off because of civil unrest in the Gulf kingdom.
Photograph: Getty Images