A stony-faced Michael Schumacher was brought crashing back down to earth on Saturday when his Mercedes failed to break into the third qualifying session at the Australian Grand Prix.
The seven-time world champion, still chasing a podium spot with Mercedes after a barren season last year, will line up 11th on the grid behind Toro Rosso's Sebastien Buemi in 10th, and more than 2.4 seconds behind pole-sitter Sebastian Vettel.
The 42-year-old German had spoken bullishly of "huge progress" for Mercedes after a positive winter testing but was left nonplussed by the team's gap with pace-setters Red Bull and held little hope of a surprise on Sunday.
"We're not exactly where we want to be but we don't know exactly the reasons for why that's the case," Schumacher told reporters in the paddock at Albert Park.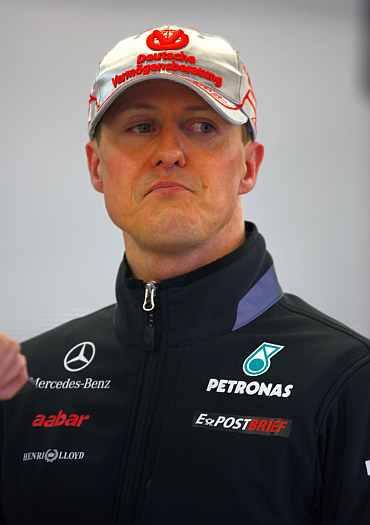 "You can have various theories but we first want to analyse and understand, then obviously take the actions.
"Don't know yet what will be the optimal strategy for how to start (on Sunday). Having cars in front of you that have a lot of laps on their tyres obviously is helpful for me maybe to get close and overtake.
"But nevertheless, the speed of the car is not to be too optimistic to make up lots of positions.
"Maybe I'm wrong, but maybe right now is a bit the situation," he added.
Schumacher, who played second fiddle to fellow German Rosberg for much of last season, was again eclipsed by his younger teammate, who will start seventh on the grid.
"For sure we're not as bad as we look today," said the 25-year-old Rosberg, marginally more optimistic than his senior teammate.
"I think that we mustn't now exaggerate and say that we're 1.9 seconds off the pace or something.
"For one, technically, not everything was working on my car, even in qualifying so there was a bit of time there. Then I had a bit of a lock-up on my fastest lap," he added.
Rosberg, who finished seventh in the championship last season with almost double the points of Schumacher, was left to hope that the bumpy Albert Park street circuit's record of producing upsets and safety cars might play into Mercedes' hands.
"Melbourne is not really the track where you need to look for representative gap to other cars," he said.
"But for sure on the other hand, we're definitely further away than we thought. That's clear," he added.