Michael Schumacher took issue with his Formula One critics on Thursday with a confident prediction of sunnier times ahead and a return to the podium before the year is out.
"Oh yes," asserted the seven times Formula One world champion, who recognized he had underestimated the challenge facing him when he ended three years of retirement last year to make a comeback with Mercedes.
"I am more than sure to be on the podium this year," he said without a trace of self doubt after his arrival at the Spanish Grand Prix, a race he has won six times before.
Schumacher's last appearance on the podium was with Ferrari in 2006.
The 42-year-old, looking completely at ease as he faced reporters in the team motorhome, clarified comments he made after the Turkish Grand Prix two weeks ago that were interpreted by some as indicating he had fallen out of love with the sport.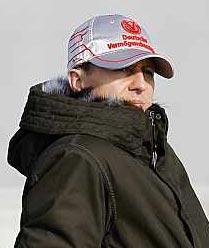 "If you saw the whole interview it should have been very clear that this was meant for that race," he said of his remark to BBC television that "the big joy is not there right now."
"Having a car that was capable for fifth and sixth... and not being there, that's obviously not the biggest fun," said the 42-year-old German.
"The mood coming into this race? That's no different than at any other event," he added.
"If you think that anything has changed in myself, no. Certainly not. Again, even doing that race I enjoyed part of that race with all the overtaking and action that I had. But the result certainly I didn't enjoy."
SUN SHINES
Schumacher finished 12th in Istanbul, after qualifying eighth, with a ragged performance that prompted renewed speculation the sport's most successful driver could call it quits at the end of the year.
The German, winner of 91 races in a Formula One career spanning 20 years, said he feels almost flattered by the attention.
"In a way I should probably take this as a compliment... I should be honoured that you guys are still putting so much interest in myself," he said.
"In a way we both live from this. Sports are about emotions and they go up and they go down in certain moments and I am more than certain I will have the upper hand by the end. So I'm not worried.
"Naturally you would prefer not to have unnecessary critics but that's part of our life. I've been through this so often and after every storm the sun always comes out."
Schumacher made clear last year he was coming back to win races and titles and he said that motivation had not changed.
It just might take a little longer than envisaged.
"This is the only thing why I am coming back... we'd rather win today than tomorrow, that's for sure, but then I didn't understand the whole situation as well as I do now," he said.