Force India is gearing up for the Italian Grand Prix in Monza, in a big way and eyeing bigger points. After gathering 20 points from the last three races, Force India is targeting elusive double points finish in Sunday's Italian Grand Prix. Force India has managed a double points finish only once and that too at the inaugural race of the 2011 season in Australia.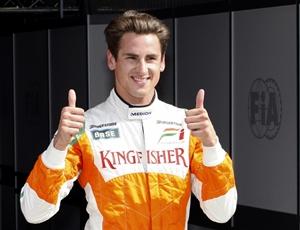 Vijay Mallya, Chairman and Team Principal was happy with the way team made a hat-trick of points -- Nurburgring, Budapest and Spa-Francorchamps -- and now want both Adrian Sutil and Paul di Resta to finish among top-10. "Looking back on the last three races I am very pleased with the performances we have shown. The target now is to get both drivers in the points and I'm hopeful Monza will give us a chance to do that," Mallya said.
Sutil is hoping that he would be able to repeat his good show here in 2009. "I enjoy it and I have good some memories there. It's where I had my best result two years ago when I qualified on the front row and finished fourth. It's a classic circuit, one of the old tracks, and you feel the history when you arrive there. And the Italian fans always give Monza a great atmosphere."
Sutil was satisfied with the performance of the car and is expecting another strong show.
Resta is also looking forward to his first Italian Grand Prix.