Lewis Hamilton has recognized that he is about as likely to drive for Ferrari in the next five years as he is to have the Spanish Grand Prix crowd cheering him on against Fernando Alonso.
McLaren's 2008 Formula One world champion told reporters at the Circuit de Catalunya, where he was sixth fastest in Friday's first practice for Sunday's race, that neither fact would cause him any lost sleep however.
"I think generally we'll always be opponents in different teams," he said, reacting to Spaniard Alonso's contract extension announced Thursday that ties him to Ferrari until at least the end of 2016.
"I don't have problems with being alongside him, but I assume he wouldn't allow it to be the other way around," added Hamilton. "I don't really care. I'll beat him in another car."
Hamilton and Alonso were team mates together at McLaren in 2007, a relationship that swiftly turned sour when the British rookie refused to follow the Spaniard's script and began to beat him.
Alonso left at the end of an acrimonious year, while Hamilton's place at McLaren was cemented even further after years of careful nurturing through the junior ranks by the Mercedes-powered team.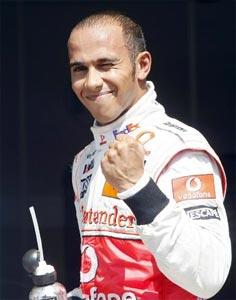 The Spaniard has always been the crowd favourite in Barcelona, while Hamilton was subjected to racist abuse during his first season, but the Briton's relationship with the local fans has improved considerably.
He, team mate Jenson Button and McLaren's Spanish reserve driver Pedro de la Rosa appeared to have won over more fans when they appeared on a television chatshow Wednesday night.
CROWD OF LOVE
"The talkshow wasn't anything spectacular, but we were treated well and I think it was quite a positive to be seen on a Spanish TV show, which is one of the most popular here," Hamilton said.
"It was good to be on there with Pedro and Jenson, and hopefully it came off well."
Hamilton said winning over the locals was a constant struggle but one he hoped to win little by little.
"Every year I get more and more people coming up to me, more and more fans, I notice more and more cheers, more and more positivity and less negativity," he said.
"I'm hoping that in five years' time or so I can have a massive crowd of love here or something. That's my goal," he laughed.
"What stops me from in five years' time having more love here is the fact that I'm always going to be planning to beat him (Alonso), so they won't be too happy about that. But that's the name of the game."
While Alonso has referred to Ferrari as his second family and raised the possibility of a further extension from 2017, Hamilton reminded him that love affairs can also sour.
Finland's Kimi Raikkonen went from McLaren to Ferrari at the end of 2006, won the championship in 2007 and was gone by the end of 2009 when Alonso was welcomed with open arms.
"They got rid of him. It doesn't mean you can't get rid of a driver just because you're in a contract," the Briton said when asked if he would have to wait for Alonso's contract to expire before he could even consider a switch to Ferrari.
He made clear anyway that he had no desire to leave McLaren.
"It's not about whether you're happy to work with someone. You try and put yourself in good environments and with good people," said Hamilton.
"I have to analyse and make sure that wherever I am, and obviously where I am right now, works perfectly well for me. So I don't see any reason to change."