Formula One's introduction of adjustable rear wings was intended to make overtaking easier and drivers agree this weekend's Malaysia Grand Prix will be the perfect venue to test its effectiveness.
The season-opener in Melbourne was highlighted by a prolonged battle for track position between Ferrari's Felipe Massa and McLaren's Jenson Button, but the short straights at Albert Park did little to suggest racing was more competitive.
Sepang, however, has two very long straights and with the Drag Reduction System (DRS) detection zone fixed on Thursday on the final corner before the home straight, opportunities to overtake will be far more frequent than witnessed in Australia.
In the DRS detection zone, drivers must be within one second of the rival ahead of them to get the wing activated. In that area, drivers open a flap to gain more overtaking speed before it automatically closes when the brakes are deployed.
"I got pretty close to (Ferrari's) Fernando Alonso a few times in Australia and only once with (McLaren's) Lewis Hamilton on lap three," Red Bull's Mark Webber, who finished fifth, told reporters on Thursday.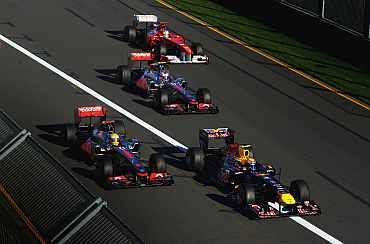 "Fernando was someone I expected to put more pressure on.
"But it was a characteristic of the corner onto the start-finish... it was too quick. And the entry to Turn One, even if you got close, it was easy for the guy to manipulate the line for you, and give you a different trajectory into the corner.
"Here will be a completely different story. If it doesn't work here I don't know where it will work. You have a slow corner to open the lap, a slow corner at the braking point, and Heathrow airport in between as well in terms of options, so it should work," he added.
Button, who was handed a drive-through penalty in Melbourne after passing Massa illegally, enjoyed his battle against the Brazilian but expects Sepang to be a far better circuit to employ the DRS.
"It was frustrating but when you look at it now, it looks like a good race, I would say. But even with the DRS it is still very tricky to overtake at a place like Melbourne with such short straights," the Briton said.
"Sepang is one of those circuits where you can really have a good tussle as corners flow into each other.
"I think with the DRS system it is going to make overtaking a lot easier than it was in Melbourne. Maybe it will be a little too easy, as I think being within a second before the last corner, even without DRS, you can have a good chance of overtaking," he added.