Formula One world champion Sebastian Vettel seized his fourth pole position in a row for Red Bull at the Chinese Grand Prix on Saturday.
Britain's Jenson Button, winner in China last year after Vettel also set pole in that race, will start second on the grid on Sunday with McLaren teammate Lewis Hamilton third and Nico Rosberg fourth for Mercedes.
Ferrari's Spaniard Fernando Alonso and Brazilian Felipe Massa qualified fifth and sixth.
Australian Mark Webber, Vettel's teammate, will start 18th after having to go into qualifying after problems with his car's kinetic energy recovery system (KERS) and then suffering a disastrous choice of tyres.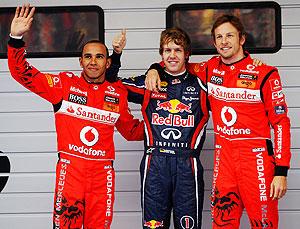 The pole was the 18th of Vettel's career, and fourth in a row dating back to last season, and left the German perfectly placed to celebrate a fifth successive victory on Sunday and become the first driver to win twice in China.
The 23-year-old dominated the first two races of the season in Australia and Malaysia from pole and has a maximum 50 points.
"We did it again but I try to remind myself and the team that every time is tough. It wasn't straightforward," Vettel said after a lap of one minute 33.706 seconds, beating Button by a comfortable seven tenths.
Webber would have made it through the first qualifyiing session had he gone out for his last attempt on the soft tyres rather than the hard rubber on a cool and overcast afternoon.
"I thought we had enough to get through. Anyway, we're out," he said, grim-faced.
Team boss Christian Horner recognised the team had got it wrong.
"It's been a dreadful day for Mark today. He had some electrical problems this morning and it was a massive effort to get the car ready," he told reporters.
"(It was) not a great first run. We went again on the primes and unfortunately those tyres were not quite up to temperature and it didn't work out. Everything we saw this morning showed we should be able to do that.
"It's very easy with hindsight to say we should have gone on the option. It was the team's call. He's just had rotten luck this weekend and I'm sure he can race very well from there."
The second stage was red flagged with two minutes and two seconds to go when Russian Vitaly Petrov's Renault stopped on the track with a suspected gearbox problem and proved hard to move.
"I don't know what happened, after the second or third corner something was wrong with the car, the throttle was not working, or maybe the gears," said Petrov who qualified 10th.
"I'm very disappointed, we did a big step up and the car was really nice to drive."
That left a queue of drivers at the pit lane exit jostling to set a lap quick enough to see them through, with Mercedes' seven times world champion Michael Schumacher among those who failed to make it.