Jenson Button is relishing Sunday's Hungarian Grand Prix, as the McLaren driver returns to the site of his first-ever victory for the 200th race of his Formula One career.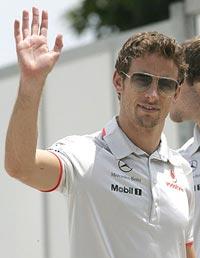 Button withdrew from last weekend's German Grand Prix after 35 laps with hydraulics problems, but the 31-year-old is hoping for better luck at the track where he tasted success as a Honda driver in 2006.
"I'm not an old fart. I can't believe I've knocked up a double ton in F1, as I don't feel a day older than when I made my debut back in 2000! I was thinking recently if I did four more years I'd be 35 and I'd retire," the Sun quoted Button, as saying.