Britain's former two-weight world champion Ricky Hatton called time on his 14-year professional boxing career on Thursday.
The 32-year-old has not fought since his IBO light-welterweight world title defeat by Manny Pacquaio in Las Vegas in May 2009.
Hatton's announcement on his website (www.hattonboxing.com) signalled the end of a career in which he had a 45-2 record with 32 knockouts at welterweight and light-welterweight.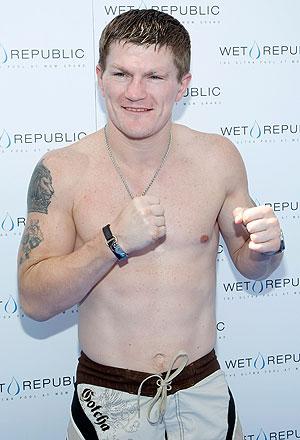 His only other defeat came against Floyd Mayweather Jr. in 2007.
"I am very upset. It's a very sad day for me. I know it is the right decision though," Hatton said on his website.
"I've known it was the right thing to do for 18 months to be honest. It's a bit of a relief to finally do it. It's been hovering over my head for such a long time. I need closure on my career so I can move on with my life."
Hatton's all-action style and down to earth personality made him hugely popular with British fight fans but in the latter part of his career he struggled with fitness.
He regularly ballooned in weight before fasting dramatically for his fights.
In 2010 he lost his licence following allegations of cocaine use.
"These last two years have been really frustrating. I hit rock bottom and it almost drove me insane," said Hatton, who was also fined 20,000 pounds ($32,140) by the British Boxing Board of Control following the drug allegations.
"There's nothing more I love than training for a fight but I have no dreams left now."
Hatton has become a successful boxing promoter.
($1 = 0.622 British Pounds)
Photograph: Getty Images