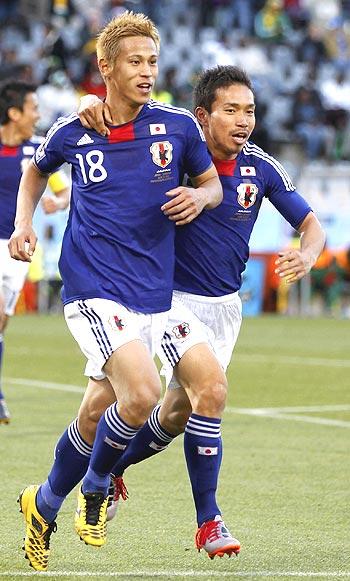 It was a belated birthday celebration for Japan's makeshift striker Keisuke Honda.
The CSKA Moscow striker helped Japan end a dismal run of results to record their first World Cup victory on foreign soil on Monday with surprise 1-0 Group E victory over one of Africa's brightest hopes Cameroon at the Free State stadium.
Honda's 39th minute goal ended a dismal five-match winless run with just one goal scored while Cameroon's Indomitable Lions proved toothless and skipper Samuel Eto'o had a largely ineffective game.
Indeed, the Japanese fans who wore blue T-shirts with the slogan "Eto'o Who?" were proved right.
Man of the match Honda, who celebrated his 24th birthday on the eve of the game, told reporters: "Recently our team has not been delivering very good results and to be honest the mood was not the best but with our coach as the focus of our team we have delivered our best and this very good result today."
Honda, who usually plays in the role of midfielder helped CSKA reach the quarterfinal of the Champions League and it's not wrong to expect big things from this player.
Japan's only two previous victories in the finals came in 2002 as joint hosts of the tournament with South Korea.