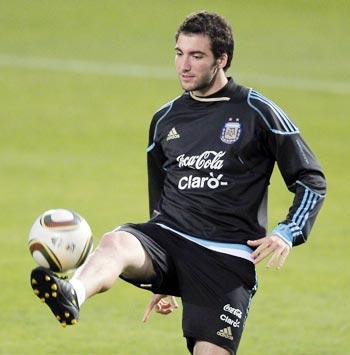 A spot of fatherly advice could be just the thing to help Gonzalo Higuain overcome the jitters which marked his World Cup debut.
The striker missed two chances he would have put away with his eyes closed in the Spanish league season, in Argentina's 1-0 win over Nigeria in Johannesburg on Saturday.
Higuain and his team mates were given Monday afternoon off by coach Diego Maradona and the striker's father, former defender Jorge "Pipa" Higuain, was in town.
"It's true that strikers live off goals but (the quality in the squad) is not a pressure, it's a nice challenge for me," the younger Higuain said of the competition he faces for Maradona's favour from Diego Milito, Inter Milan's two-goal Champions League final hero, and Sergio Aguero.
"The important thing (on Saturday) was that we had the chances though obviously you go away with the disappointment of not having scored," he told a news conference at Argentina's University of Pretoria base.
No doubt Jorge Higuain will have helped "Pipita" (little Pipa) settle his tournament nerves in the hours spent together on Monday just as he lent his support to the 22-year-old when he opted to play for Argentina over France, the land of his birth.
"Sometimes destiny is not in your favour but the important thing is to create the chances, that's why we're calm," said Higuain after Argentina might have scored three or four goals, mostly though a scintillating Lionel Messi.
Destiny also handed "Pipita" a tough choice a couple of years ago thanks to the brief spell that his father spent at Brest, then in the French top flight, in 1987-88 during his career as a centre back.
FRENCH CONNECTION
The young Higuain, born in that northwestern corner of Brittany, was eligible to play for France and their coach Raymond Domenech showed an interest.
However, his father and brothers -- including Argentina-based first division forward Federico -- helped him confirm to himself that he felt Argentine and wanted to play in the light blue and white stripes.
Next came the task of winning over Maradona, who overlooked Higuain for a long time even when he was in brilliant form for Real Madrid.
Maradona was sceptical about the striker's commitment to Argentina after he had turned down the chance to play for the under-20s at the 2007 Youth World Cup.
However, with the noose around his neck as Argentina struggled in the qualifiers, the talismanic coach called up Higuain for the last two in October and "Pipita" did not disappoint with two good performances and a goal.
There was fatherly advice all the time in Argentina's camp, too, Higuain said. Maradona is "a born motivator... he's very close to the players, knows how we're feeling and when to come and talk to us."