Claude Arpi captures the fan's passion for football in an ongoing e-mail exchange with Ivan Crasto, Rediff.com's Sports Editor.
Read Claude's first e-mail here
You can find his second e-mail here
And his third here
And his fourth here
And his 5th: Revolution is a French sport
And his 6th: World Cup balls
And the one yesterday on Why is refreeing so poor in the World Cup?
Dear Ivan,
New day, new emotions.
That is the greatness of the World Cup.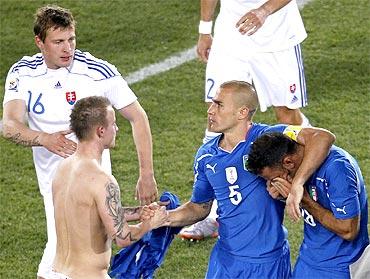 In Paris, in the Elysee Palace (where the French president lives), the atmosphere must have been rather morose yesterday afternoon, not because unemployment has increased by 0.9 per cent in May or because more than 1 million people demonstrated in the streets of Douce France (sweet France), but because Italy's blue jerseys, like their French Bleus colleagues, will take a plane back to Europe.
The French-Italian First Couple, Nicolas Sarkozy and Carla Bruni, will soon leave for Canada (for the G-20 summit) and try to forget. A joint karma?
Both were finalists in 2006, both left at the end of the first round in 2010. It is only the third time that a champion has said bye before the knockouts: Brazil in 1966 and... France in 2002.
Experts in the occult may say it was the colour of the jerseys, but the 'blue' Nippons made it to the last 16 in the other match! So where is the problem?
Perhaps they simply do not play good football! Against a surprising Slovakia (which really wanted to go through), the Squadra Azzura played 'cool' for the first 80 first minutes. It is only when they were down 3-1, that they woke up. Then we saw the qualities of the soon-to-be ex-World champions. But it was too late, despite 6 minutes of injury-time.
Italian coach Marcelo Lippi (and his colleagues France coach Raymond Domenech and Paul Le Guen, Cameroon's French coach) will probably add to the European unemployment rate. But one should not worry too much for them.
After the rout of the French and Italians and the pale performances of the British and German players, only the Oranje of The Netherlands managed to prevent the sinking of old Europe. They remained efficient against the Indomitable Lions of Cameroon who were tamed. It was nice that Samuel Oto'o could score; he will remain one of the greatest African players of all time.
I like Japan because they fight to win. A couple of days back, I complained that with the new Jabulani balls, we couldn't see beautiful free-kicks anymore. I was therefore thrilled after the terrific shots by Keisuke Honda and Yasuhito Endo who gave Japan a good lead.
Don't you think that it is great to have two Asian teams in the final phase?
Of course, one dreams to see India one day amongst the best. But it does not seem to be for tomorrow that the Indian jersey will shine on world football fields.
Bharat today ranks 133th in the FIFA World Ranking, between Fiji (population: 849,000) and Bermuda (population: 67,837). What to say??
No doubt, people love football in India. A few days ago, a friend based in Kolkata wrote to me: 'West Bengal, of course, is obsessed by the Cup. Nowhere else in the world will you find such avid support for a game whose skills seem so hopelessly out of reach!'
It is true that I have rarely seen such coverage in India for a world event. Most newspapers have doubled the number of sports pages for the occasion. India must now be counting a couple of hundred million 'experts', but unfortunately it does not translate into skill on the field.
I personally feel that 'cricket' (not as a sport, but as an institution) is the villain. Further, sports are too politicised in India; why should politicians head all the federations (except to make more money, of course)?
Unless politicians are shown the door and sports-lovers take over the federations, the situation will remain at status quo; India will oscillate between the 120th and 140th world rankings.
A revolution is required before we witness such a change.
As another friend e-mailed me yesterday, 'In India we will continue to play in our mind', it requires less effort than on the field. Very sad! Don't you think?
Praying for Indian vuvuzelas,
Claude
PS: Coming back to my point about the referees, video refreeing would eliminate the Hands of God (a la Maradona or Thierry Henry). Too bad for God. Later the blame is laid on the player who committed the fault, but it is the referee who should be blamed for not seeing it. Being a limited human, technology could be a welcome aid.
Image: Italian Captain Fabio Cannavaro, centre, greats Slovakia's Miroslav Stoch, left, as Fabio Quagliarella weeps at the end of the match, which saw the Italians bid farewell to the World Cup. Photograph: Kim Kyung-Hoon/Reuters