France captain Patrice Evra is furious at coach Raymond Domenech for denying him the chance to apologize to French fans for the team's World Cup debacle, and for keeping him out of the last match against South Africa for "no valid reason."
France were knocked out of the World Cup on Tuesday after losing 2-1 in its final group game to South Africa.
Evra was one of six players dropped by Domenech after the team mutiny on Sunday.
"Tonight it's time for the big apology toward the ... French people, because I share the pain of all these French people," Evra said on Tuesday. "What hurts even more is that this apology should have been made yesterday, but my coach stopped me doing it as a captain"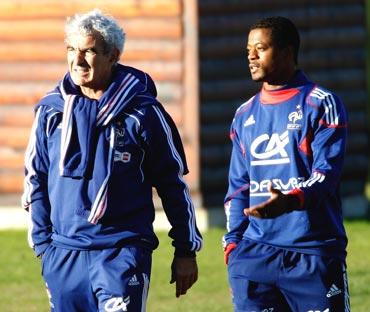 He added that there is a lot going on behind the scenes and the people of France "will know the truth".
"There is a cause for all this failure, several things will come out," he said. "Then, if people don't want to forgive, at least they will know the truth."
Evra said the whole squad will "give up all the bonuses, we won't accept a single cent" from the World Cup out of shame.
On Sunday, the French squad went on strike, refusing to practice in protest at Nicolas Anelka's exclusion from the squad for insulting Domenech at half time during last week's 2-0 loss to Mexico.
Evra accused Domenech of stopping him from attending the pre-match news conference on Monday, which the coach attended alone before describing his players as imbeciles for their protestations.
Domenech criticized his players for locking themselves in a team bus with the curtains drawn, calling it "an aberration, an imbecility, a stupidity without name."
But Evra says the reasons for such a radical protest will be made known soon.