News of all that's transpired on and off the football field on Thursday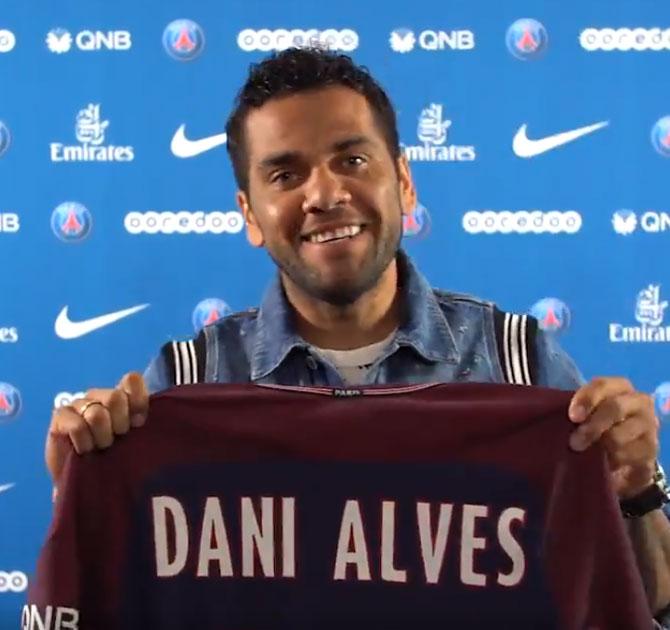 IMAGE: Dani Alves introduced as PSG player. Photograph: PSG/Twitter
Dani Alves has completed a surprise move to Paris Saint-Germain, the French club said on Wednesday.
"I am extremely happy to have joined PSG," Alves said after signing a two-year contract following his release by Juventus.
"The past few years I saw the formidable growth of the club and its place as one of the strong teams in European football. It is exciting to be a part of this grand project," added the 34-year-old full-back.
The Brazilian had seemed likely to link up with his former Barcelona manager Pep Guardiola at ManchesterCity.
Alves spent four years under Guardiola in Spain, winning the Champions League twice in that time, but a reunion never materialised.
Giroud stays focused but uncertain on Arsenal future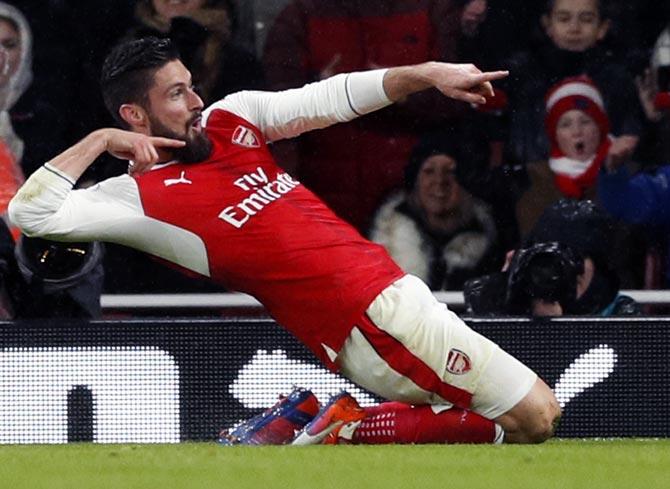 IMAGE: Arsenal's Olivier Giroud is happy to focus on the club's pre-season campaign. Photograph: John Sibley/Reuters
Arsenal striker Olivier Giroud is unsure about his immediate future at the Premier League club but remains focused on preparing for the team's pre-season fixtures, the France international said.
Manager Arsene Wenger used Giroud primarily as a substitute last season as the 30-year-old made 18 of his 29 league appearances off the bench and started in just three of Arsenal's eight Champions League matches.
The North London club's new signing Alexandre Lacazette will increase competition for starting places up front and while Giroud welcomes the added pressure, he remains uncertain about extending his five-year stay at the Emirates.
"At the moment I'm still an Arsenal player so I'll try to be professional like always and prepare well for next season," Giroud told Sky Sports in Sydney.
"Obviously, there will be more competition, even more than last year, but it's always nice for a striker to feel the pressure and I always deal with it.
"I've been through some difficulties these last years but always succeeded to bounce back, but this one I don't know. I don't know about my future so I can't tell you more. I'm focused on my pre-season."
Arsenal will play their first pre-season match against Sydney FC on Thursday.
I want to stay at Arsenal: Ozil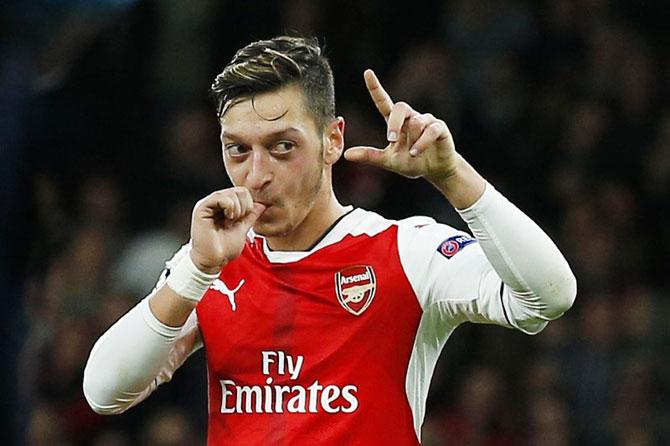 IMAGE: Arsenal's Mesut Ozil says 'feels very good at Arsenal'. Photograph: Andrew Couldridge Livepic/Action Images via Reuters
Arsenal's Germany midfielder Mesut Ozil has said he wants to stay at the Premier league club and will discuss his future after their pre-season tour of Australia and China.
"It is definitely my preference to stay," he said on the club's official website (www.arsenal.com). "It is such a great club and I have always said that I feel very good at Arsenal.
"Once everyone is back in London we will sit down and discuss about the future," added the 28-year-old amid media reports that he could leave in the transfer window.
Ozil is under contract at Arsenal until 2018.
"For now the most important thing is our pre-season and getting through the tour, training and getting fitness. When I'm back in London, we will sit down and discuss."
Arsenal play Sydney FC on Thursday and Western Sydney Wanderers on Saturday before heading to China.
Real Sociedad sign Januzaj from Man United
IMAGE: Adnan Janujaz has signed a five-year contract with the Basque side. Photograph: Andrew Yates/Reuters
Real Sociedad have signed Manchester United winger Adnan Januzaj for a reported fee of 9.8 million pounds ($12.6 million), the Spanish La Liga club said on Wednesday.
United have installed a buy-back clause in the deal for the 22-year-old Belgian, Spanish media reported.
Januzaj has agreed a five-year contract with the Basque side and will be presented officially on Thursday after attending his first training session.
"Thank you to some of the coaches and staff that work at Manchester United to make it a great club," Januzaj said on Instagram.
"Unfortunately, my time at the club has come to an end and it didn't go the way I wanted it to go, but I will always have love for Manchester United."
Januzaj broke into the United team in 2013 under manager David Moyes and scored twice in his first start in a Premier League game against Sunderland.
But he never built on that early success and netted only five goals in 66 appearances for United before being sent on-loan to Borussia Dortmund and Sunderland.
FIFA whistleblower Chuck Blazer dies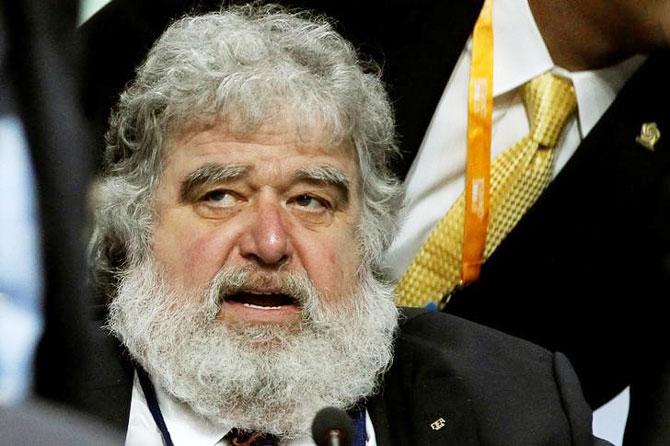 IMAGE: Former FIFA executive member Chuck Blazer. Photograph: Arnd Wiegmann/File Picture/Reuters
Chuck Blazer, the former FIFA executive committee member who had pleaded guilty to racketeering, wire fraud and money laundering has passed away, his lawyers said on Wednesday.
A statement by Blazer's two lawyers did not provide details or the circumstances of his death.
Blazer, 72, held the position of general secretary at the Confederation of North, Central America and Caribbean Association Football (CONCACAF) from 1990 to 2011.
He pleaded guilty in the United States to bribery and financial offences in 2013 and was later banned by FIFA from all football activities for life.
According to the transcript of his November 2013 guilty plea, Blazer and others in FIFA agreed to accept bribes in bidding for the 1998 World Cup in France and the 2010 World Cup in South Africa.
FIFA's ethics committee had said Blazer breached rules on loyalty, confidentiality, duty of disclosure, conflicts of interest, offering and accepting gifts and bribery and corruption.