While the rest of the nation was tuned into the Indian Premier League, big applause and shouts of dismay were heard in every locality of Mizoram's state capital, Aizawl, and other places on Sunday night as the English Premier League reached its climax
Traditional drums joined the cheers as firecrackers lit up the night, on the lines of the New Year to mark the win of Manchester United in the premier championship.
- Images: Man Utd retain EPL Title
One of the fans Zoramdinthara, a lecturer of Pachhunga University College, sent a number of sms to his friends and friendly banters to the supporters of rival Arsenal.
A senior police officer said crimes like burglary and theft never occurred during World Cup football matches as even petty criminals were glued to television sets watching the matches.
All the local papers in Mizoram, where the European football is keenly followed, concentrate mostly on the game as a column is set aside for war of words between fans of English football clubs where sms received from the fans are published.
- Africans kicking in Indian football
The eight-paged largest circulated vernacular daily Vanglaini devoted two of the last pages for sports and used the last page mainly to publish stories about football.
Local television channels also organize weekly talk shows on football by sports writers which has a large number of viewers.
Many fathers have christened their sons as that of their favourite football players, like Steven Gerrard of Liverpool.
Fan Clubs of the big four in the EPL-- Manchester United, Arsenal, Chelsea and Liverpool have sprang up in Aizawl and other big towns.
Manchester United Supporters Association claims that it has more than 2,000 members from across the state who paid Rs. 10 to be a member.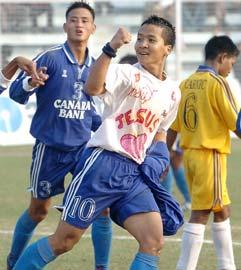 Youngsters from Mizoram are not only crazy about global football, but also talented players in their own right.
Around 20 young Mizo footballers are now playing in different national clubs like Mohun Bagan, East Bengal of Kolkata and other clubs in Goa and Tripura.
The most successful professional football player, S Malsawmtluanga, who was with East Bengal and Salgaocar of Goa, recently signed a contract with Bagan and is likely to receive around Rs, 20 lakh per year.
Close on his heels are players like Jerry Zirsanga Tuaitea and other promising youngsters.
Mamuana, the well-known sports writer is, however, worried about the state of affairs of the domestic football.
"While young people can name all players of Europe in football clubs, there will be few of them who can name even few Mizo football players," he lamented.