Euro 2004 offers Sweden's model performer Fredrik Ljungberg the opportunity to finally prove himself a genuine world-class act on the international stage.
Sweden's best-known player alongside Celtic striker Henrik Larsson, the Arsenal midfielder has often struggled to replicate his outstanding club form for his country.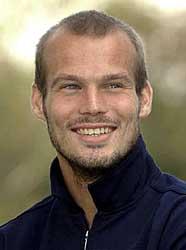 Ljungberg could be called his country's equivalent of David Beckham, the England midfielder and captain.
The 27-year-old with a keen fashion sense has been a Calvin Klein male underwear model and whenever he visits his home country, papers gorge on his appearances at Stockholm's most exclusive nightclubs.
Like Beckham, Ljungberg displays a tremendous fighting spirit on the pitch. Although he does not rank among the world's most technically gifted players, Ljungberg compensates with phenomenal speed and a will to run incessantly.
He also reads the game superbly, a talent that helped to bring him 17 goals for Arsenal during their double season of 2001-02,
a remarkable tally for a midfielder who was sidelined by injury for a significant chunk of the season.
But the difference between the two is that Beckham regularly delivers match-winning displays on the international stage.
At the World Cup in 2002 Ljungberg played in only two of Sweden's four matches in Japan because of injury. He was best remembered at the tournament for a well-publicised fight with his team mate Olof Mellberg during training.
The last European Championship in Belgium and the Netherlands three years ago was a major disappointment, not only for Ljungberg but for the entire Sweden team as they failed to survive the group stage.
His tally of only three goals in 39 Sweden appearances suggests he has yet to find a settled, effective role within the national set-up.
Next month's competition, in which Sweden face Bulgaria, Denmark and Italy in their opening group phase, offers Ljungberg the perfect platform to show that he is not just an outstanding performer at club level, but that at international level too, he is more than just a pretty face.