Former England cricketer Andrew Flintoff beat American Richard Dawson on points after surviving a knockdown in his first professional fight at the MEN Arena in Manchester on Friday.
The 34-year-old got a rousing reception from the 5,000 fans and won the first of four two-minute rounds before being caught by a left hook early in the second that sent him to the canvas.
However, Flintoff got up to receive a standing eight count and battled back with a more composed performance against a flagging opponent for a 39-38 win on the referee's scorecard.
"You talk about the Ashes and things but as a personal achievement, this is the best," Flintoff, part of England's Ashes-winning teams in 2005 and 2009, told BoxNation.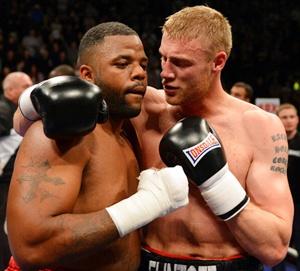 Despite his successful start the former all-rounder was cautious about his future in the sport, saying "we'll see how we go. It's not natural to me, I've had to work so hard.
"The feeling of being in there and winning at the end, I can't believe it but I'm not pretending to be something I'm not," he added.
Flintoff, coached by former world champion Barry McGuigan, had weighed in at 216lbs (97.98kg), 25lbs (11.34kg) lighter than Dawson, 23, who had won his previous two professional fights.
Flintoff, who played 79 Tests before retiring from cricket in September 2010 through injury, became a national treasure by leading England to their famous Ashes victory in 2005 - their first Test series win over Australia in almost two decades.
Image: Former England cricketer turned professional boxer Andrew Flintoff (R) talks with opponent US boxer Richard Dawson (L) after winning their heavyweight boxing bout at the Manchester Arena.
Photograph: Andrew Tates/AFP/Getty Images)