Indian tennis stars Mahesh Bhupathi and Rohan Bopanna witnessed the Miami Heat vs Houston Rockets NBA encounter at American Airlines Arena in Miami on Sunday.
After the match the Indian tennis duo got a photo op with Miami Heat's star Dwayne Wade.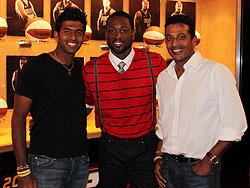 In other NBA news, the Oklahoma City Thunder secured a spot in the NBA playoffs on Sunday with a testing 99-90 win over division rivals Portland.
The Thunder went on a decisive 17-8 run over the final 6:18 of the fourth quarter led by Russell Westbrook, who scored 11 of his 28 points in the blitz.