Wrestling's international governing body, FILA has announced a rejig in weight classes for its competitions, including those of the 2016 Rio Olympic Games, a development which would lead to India's medallists Sushil Kumar and Yogeshwar Dutt moving up to a higher weight category.
FILA added two classes to women's freestyle and reduced one each from men's freestyle and Greco-Roman competitions, thus setting a 6-6-6 split among the three disciplines in Rio de Janeiro Games. This weight change will also be applicable in the Commonwealth Games and Asian Games.
In its Technical Commission meeting, the world body also decided to change weight categories in other FILA events to affect a split of 8-8-8 among the three disciplines.
The move came after FILA worked with the IOC to ensure wrestling remained on the Olympic programme. The sport was dropped from the list of Olympic programme in February, but was reinstated in September after FILA introduced changes to modernise the ancient sport.
FILA said the changes in rule and competition format will come into effect from January 1 next year.
For the Olympics, the men's freestyle and Greco-Roman will each lose a weight class between light and heavyweight. In Rio, male freestyle wrestlers will compete at 57 and 65 kilograms rather than at 55, 60 and 66 kilograms, like they did at the recent London Games.
This would mean that Sushil and Yogeshwar, who were competing in 66kg and 60kg freestyle respectively will have to move to a new category. Yogeshwar will now have to move to 65kg while Sushil will have to compete in the next higher 74kg.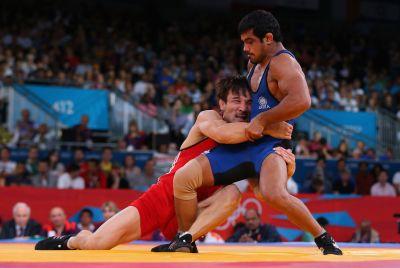 In Greco-Roman, the two lightest classes are now 59 and 66 kilograms. Freestyle middleweight will remain 74 kilograms, followed by 86, 97 and 125 kilograms for heavyweights.
Greco-Roman wrestlers will also compete at 75, 85, 98 and 130 kilograms.
Women's freestyle was introduced for the 2004 Olympics and competed at 48, 55, 63 and 72 kilograms in London last summer. They will wrestle at 48, 53, 58, 63, 69 and 75 kilograms in the 2016 Games. That should help open up competition in an emerging sport that has been dominated by Japan.
Reacting to the development, double Olympic medallist Sushil said that it would be difficult for him to change his weight category to 65kg from his current 66kg.
"It would be difficult for me to compete in the 65kg. For me, it would be difficult to adjust to the new weight category. It's not easy to lose even a kilogram keeping Olympics in mind. I have the option of moving to a higher category. Let's see, I will discuss the new wight categories with my coaches and then announce the decision," Sushil said.
India chief coach Vinod Kumar also ruled out Sushil and Yogeshwar fighting in the same weight category.
Sushil has struggled every time he had to reduce his weight to compete in 66kg and as per the new categories, Sushil will now move up to the 74kg category in Rio.
Yogeshwar has won his Olympic medal in the 60kg category in 2012 while Sushil competed in 66kg for his historic silver at the London Games.
Yogeshwar said the decision to drop the two categories will hit the Indian wrestlers hard.
"The decision will not only affect the Indian wrestling but other countries as well. It has hurt the Indian wrestling and I am disappointed with this decision. Our preparations for Rio Olympics will be affected. I will move to a higher category and hope that Sushil also moves to 74kg. You can't imagine both of us competing against each other in 65kg. You can't have India's two best wrestlers fighting it out for a Olympic berth," he said.
"We were doing really well in the 60kg and the 66kg categories and now they have suddenly removed the two categories from the next Olympics."
Meanwhile for FILA events, including world and continental championships, World Cups and Golden Grand Prix championships, the world body decided to add 61 and 70 kg classes to men's freestyle, 71 and 80 kg to the Greco-Roman field and 55 and 60 kg to the women's freestyle competition, making it an 8-8-8 split among the three disciplines.
The weight classes for juniors and cadets were not changed.
"We believe we have set the foundation for both the Olympic Games and the FILA championships with these weight classes, rule changes and competition format," said FILA President Nenad Lalovic.
"We thank the members of the Technical Commission for their guidance in this important decision. We used the knowledge and ideas of various commissions in FILA to reach these decisions. It was a total organisational effort. We want to make changes that make the sport better. If we need to change, we will. Our goal is to be excellent in everything we do," Lalovic added.
Image: Sushil Kumar
Photograph: Ryan Pierse/Getty Images