FIFA's executive committee failed on Thursday to agree whether age and mandate limits should be placed on senior officials.
The world governing body's independent governance committee (IGC), created to put forward suggestions for reforming soccer's governing body, had proposed an age limit of 72 and restricting the president to two four-year terms in office.
However, European soccer's governing body UEFA accepted the age limit but wanted the president to serve a maximum of one eight-year term followed by a four-year one. It also opposed limiting mandates for executive committee members.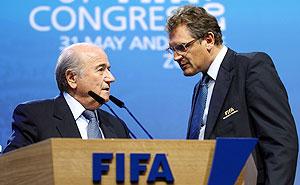 Theo Zwanziger, head of a task force created to reform FIFA statutes, said the matter would be left open when it was presented to FIFA's annual Congress in Mauritius in May.
"We have dissenting views and the president (Sepp Blatter) said we should discuss it decide openly at Congress," he said.
"Do they want a limitation of mandates or do they want an age limit, or both?"
The executive committee approved a proposal that the FIFA president and executive committee members should be subject to integrity checks.
It also proposed abolishing an place reserved on the 25-man executive committee for the four British associations and transferring it to European soccer's governing body UEFA.
However, UEFA has already said it will keep the extra place for the British FAs, meaning no change in practice.
In another proposal, it said that FIFA presidential candidates must have the support of at least five member associations before they can stand for office and must have played an active role in the sport for at least two of the five previous years.
The recommendations will all be put to Congress, where each of the 209 member national associations hold a vote.
Photograph: Julian Finney/Getty Images