Spaniards Rafa Nadal and David Ferrer will lock horns again in the Monte Carlo Masters final after the claycourt conquistadors sealed contrasting victories in their semi-finals on Saturday.
World number one Nadal, who lost to Ferrer at the Australian Open quarter-finals, was pushed hard by injury-hit third seed Andy Murray but won 6-4, 2-6, 6-1 in a less than vintage display.
"It was a very physically demanding match," Nadal said courtside as he gears up for next month's French Open.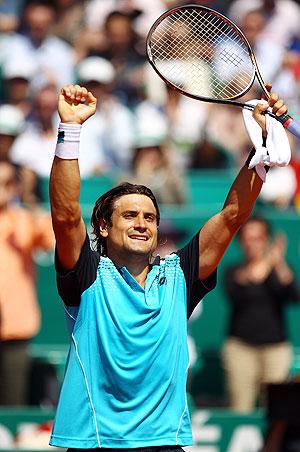 Fourth seed Ferrer roared back from a shaky start to cruise through with a 6-3, 6-2 win over Roger Federer's quarter-final conqueror Juergen Melzer of Austria.
The Monte Carlo Country Club will host a second successive all-Spanish final fiesta after Nadal set a men's professional era record of winning six titles in a row at the same event by beating Fernando Verdasco here last year.
Nadal lost in the final of his last two tournaments to Novak Djokovic but the Serb withdrew from the season's first European claycourt event because of a minor knee injury.
Not even Ferrer would bet against the top seed ending his mini title drought on Sunday.
"It's very difficult to beat Nadal of course. He is the best player in history on clay," Ferrer said.
Nadal broke for 3-1 in the first set when shaggy-haired Murray, looking exhausted already after facing a barrage of powerful Nadal forehands, sent a booming shot long but the Briton hit back in the seventh game only to lose out in the final game.
ELBOW INJURY
Determined third seed Murray refused to lie down and a superb crosscourt backhand gave him the fourth game of the second set after nearly 20 minutes of slugging before breaks of serve were exchanged three times and the Scot took the set.
Nadal though raced to a 4-0 lead in the third as Murray needed treatment on an existing elbow injury before succumbing.
"I didn't know I'd be able to play until five to three," said coachless Murray, who has lost 10 of 14 matches with Nadal.
"I had a cortisone injection and local anaesthetic. I've never had a problem with my elbow before. I'm happy I gave it my best but I think I can do better."
Ferrer made Melzer look half as potent as when he beat Federer on Friday to prevent the top four seeds going through.
Melzer broke early for 2-1 as Ferrer struggled with his serve but the Austrian then lost his serve twice, with a double fault effectively sealing his fate in the first set.
Ferrer, bidding for a 12th career title and third this year, triumphed after the seventh seed was broken to love in the fifth game of the second set before losing his serve again.
The world number six produced a string of winners to delight the near capacity crowd including Prince Albert of Monaco.
"He had better depth with his forehand. I was a little bit unlucky with bad bounces at important moments," Melzer said.
Friday's windy conditions were quickly forgotten thanks to bright sunshine which greeted the players at the idyllic setting nestled between cliffs and the shimmering blue waters of a bay.