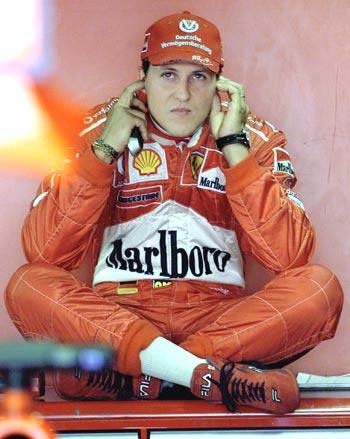 Ferrari will not stand in Michael Schumacher's way if the seven-times Formula One world champion decides to come out of retirement and race for Mercedes, president Luca di Montezemolo said on Monday.
The 40-year-old German has worked as a consultant for the Italian team since retiring at the end of 2006 but reports say he is close to signing with Mercedes, who have taken over world champions Brawn.
The Mercedes team is run by Ross Brawn, the former Ferrari and Benetton technical director who helped Schumacher to all his titles.
Schumacher announced in September that he would work as a consultant for Ferrari for another three years. Asked if Ferrari would enforce the deal, Montezemolo said: "No, not binding."
"It's clear that if he decides to take another road our (consultancy) agreement will no longer be valid — that is logical. You can't work with a competitor and with us at the same time," Montezemolo said.
"I still haven't spoken to him about it. He is only a dear friend, not a team member. He is a consultant for our road cars," he added.
Schumacher was forced to abort plans for a Formula One comeback with Ferrari because of fitness concerns in August.
NECK INJURY
He was due to replace the injured Felipe Massa but pulled out following medical checks on a neck injury sustained in a motorcycle accident earlier this year that caused him pain during testing.
Ferrari had talked about including him in their 2010 lineup as a possible third driver but those plans came to nothing with the arrival of new teams and the expansion of the starting grid from 20 to 26 cars.
Germany's Bild newspaper reported on Saturday that Schumacher was close to a deal with Mercedes, whose sportscar team he raced for before entering Formula One in 1991.
Mercedes GP chief executive Nick Fry said last week that a Schumacher comeback would be good for Formula One, while German driver Nico Rosberg, who has signed for Mercedes for next season, said he would welcome him as a team mate.
"I hope that my team mate will be sorted out pretty soon and at the moment the rumours are very strong for Michael Schumacher," he said in a promotional video for Mercedes filmed in Abu Dhabi on Monday.
"I have no idea if it is true or not but obviously if he would join that would be an absolutely fantastic move," added the 24-year-old, who overlapped for one season with Schumacher in Formula One.
"It would be a big challenge, a great experience and so I think it would be a good thing," he said.