Formula One champions Ferrari raced in Sunday's Bahrain Grand Prix with a black mark of mourning for Pope John Paul on the nose of their cars.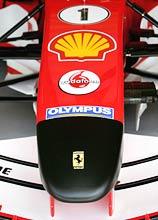 The Polish-born Pope, who visited Ferrari's Maranello factory in 1988 and was presented with a scale model of a Formula One car by team members at the Vatican in January this year, died on Saturday.
Italy postponed the usual Sunday soccer programme and called off other sporting events in the Catholic country as well as cancelling the live broadcast of the third Formula One race of the season in Bahrain.
Seven-times world champion Michael Schumacher said the Pontiff's death had affected the team.
"The atmosphere is sort of very strange to all of us," said the German, who had met the Pope at the Vatican. "Obviously Germans, Italians feel very connected to the Pope as many other countries do.
"You cannot really explain the words in terms of emotion and feelings that are going on around the team, particularly as we had the visit with the Pope early this year. It's very sad for us," said Schumacher.
Italy's Jarno Trulli raced for Toyota with the message "Thank You Pope" on his helmet.
The race was won by Formula One championship leader Fernando Alonso of Spain with Trulli in second and Kimi Raikkonen of Finland third.