Roger Federer was blown away 6-4, 6-4 by Juergen Melzer in the Monte Carlo Masters quarter-finals on Friday as the world number three's patchy start to the season continued.
The windy conditions caused problems on centre court, with the huge waves in the bay just behind the open arena and the fluttering flags showing just how blustery it was.
Dust from the clay was flying up into the players' faces but Federer can have few excuses having netted some simple forehands and a smash against the seventh-seeded Austrian, who looked like he was carrying a slight injury in the first game.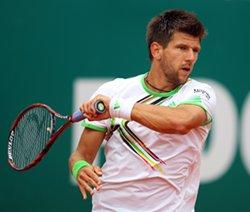 However, Melzer stormed back and never let 16-times grand slam champion Federer settle, taking his two break point opportunities with gusto while limiting the Swiss's chances to get back.
"He did well and played aggressive. He didn't give me many chances," Federer, who has never won at Monte Carlo and last won a tournament at Doha in early January, told reporters.
"I didn't think I played terrible. It's the first week of play (on clay) so I didn't expect to play my best. It's been a solid tournament."
The French Open starts on May 22.
Fourth seed David Ferrer earlier motored into the semi-finals with a 6-3, 6-3 win over Serbia's Viktor Troicki.
As street workers near the Monte Carlo Country Club were making preparations for next month's Monaco Formula One Grand Prix, bandana-wearing Spaniard Ferrer was racing to victory at the first clay event of the European season.
The players exchanged breaks in the middle of the first set before Ferrer broke again thanks to a volley down the line and the tall 11th seed Troicki was unable to stage a fightback in the second.
World number one and holder Rafa Nadal is playing Ivan Ljubicic before Andy Murray takes on Frederico Gil in the last of the quarter-finals.
Photograph: Getty Images