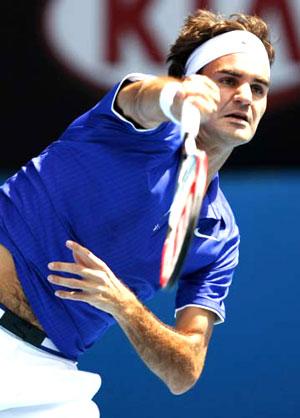 World number one Roger Federer said he had to get tough and forget about the beautiful side of his game to beat Germany's Bjorn Phau 6-3, 6-4 at the Estoril Open and post his first win of the clay season on Wednesday.
The Swiss made the worst possible start to the season, crashing out at the first hurdle in Rome against Latvian Ernests Gublis last month, so he was happy to beat the 138th-ranked German, even if he had to opt for a pragmatic approach.
"Today I played to win, I didn't try to make it look nice or anything, it was about being tough and focused, and coming through, trying to win matches," Federer told a news conference.
"I played well and its important that I play the right tennis right now. It wasn't always beautiful, but it doesn't matter," he added.
Federer, who won the tournament in 2008, appeared to be in control of the match but did have to save three break points as he served for the first set.
After receiving a bye in the first round, the win against Phau earned Federer a quarter-final berth against Frenchman Arnaud Clement on Friday.
"He's a guy who's beaten big players in the past, he's tough and he's not going make it easy for me," the Swiss said.
Looking ahead to the French Open, which starts at Roland Garros on May 23, Federer said winning the tournament for the first time last year would give him an "edge" this time.
"I'll be one of the big favourites to again. As defending champion you have something special going for you. It doesn't make things a whole lot easier, but at least now you know how to do it and I think that's going to give me an edge," he said.
"Last year I came through some really tough matches and that's what the French Open is all about, digging deep and battling when things are not going well and accepting the physical and mental battle," Federer added.
Fourth-seed Albert Montanes also booked a quarter-final spot on Wednesday, beating Spanish compatriot Daniel Gimeno Traver 6-1, 6-2. Eighth seed Uruguayan Pablo Cuevas battled to beat Spain's Marcel Granollers 7-6, 7-6.
Second seeded Croat Ivan Ljubicic has pulled out due to a muscle injury, which prevents him from serving, a spokesman for the tournament said.