Roger Federer may be recently married and a new father to twin girls, but nothing can distract the Swiss 15-time grand slam champion from the business of being the world's top-ranked player.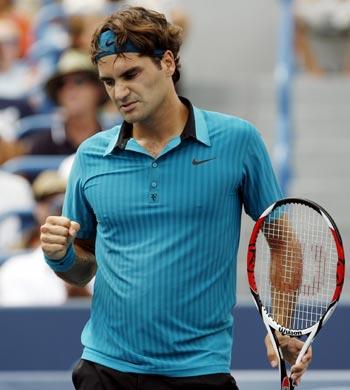 "I'd love to finish number one in the world at the end of this year," Federer told reporters, after opened his title challenge at the Cincinnati Masters on Wednesday with a workmanlike 6-3, 7-5 win over Jose Acasuso of Argentina.
The win put the 28-year-old into the third round and a step closer to a potentially mouth-watering semi-final encounter with Briton Andy Murray, if the seedings fall into place.
Murray, who prized the world number two ranking from Rafael Nadal last week, has emerged as a genuine threat to Federer's ambitions of a 16th grand slam title at the U.S. Open, and a third this year after sweeping the French and Wimbledon crowns.
Federer, whose wife Mirka gave birth to Myla and Charlene last month, said he was enjoying fatherhood, but gave little indication that his competitive spirit had waned.
"It's definitely a very positive change in my life, having twin girls," he said. "We're enjoying every second we can spend with them.
"Obviously this week is just right before the U.S. Open, so this is where my focus is.
"I think after the U.S. Open and then until the end of the year, I'll definitely sit down and see where I want to go next year, what my goals are.
"So far I just wanted to see how it feels to be a dad and get through the U.S. Open and hopefully play very well over there."