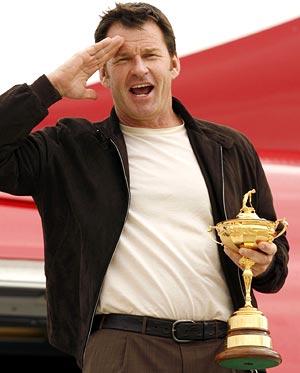 Six-times major winner Nick Faldo received his knighthood from Queen Elizabeth on Tuesday, describing the honour as beyond his boyhood dreams.
"I was so delighted my family were there to see that," said the 52-year-old after the Windsor Castle ceremony. "It was quite an incredible experience."
Faldo, England's most successful golfer, won the British Open three times and the US Masters three times between 1987-96 and played in 11 Ryder Cups.
"I guess I had intentions of winning those (majors) because I beat a lot of golf balls and that is what I wanted to be but this one, to be honoured like this, honestly you don't dream of that one as a kid," he said.
"My very first thoughts when I heard I was receiving this went back to the days when I used to ride my bike through the woods to Welwyn Garden City Golf Club and start practising.
"I had aspirations to be the best and winning majors and I guess I just did it the old-fashioned way and practised hard."
Faldo, who captained Europe's defeated Ryder Cup team last year, is the second golfer to be knighted after Henry Cotton was awarded the honour posthumously in 1987.