Juan Pablo Montoya left Williams as a winner in Brazil on Sunday, even if he had hoped for greater things before the season started.
The Colombian had wanted to take the world champion's number one with him to McLaren next year but that dream was shattered by Ferrari and Michael Schumacher when the championship was still in its infancy.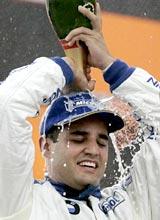 Williams had looked in danger of drawing a blank for 2004 until Sunday, their last win being Montoya's triumph at Hockenheim in August 2003.
They had struggled with the radical-looking 'tusked' car early in the season, before abandoning the style, and were hit by Ralf Schumacher's absence through injury for six races over the European summer.
On Sunday, at the closest thing to a home circuit for the driver from Bogota, Montoya provided the best parting gift he could come up with, his fourth win for the team.
"It's been four years with Williams, we've had ups, downs and everything and I think to close those four years with a win is unbelievable," he said.
"I really want to thank Frank (Williams)."
The team, fourth in the championship, was duly grateful.
"What a fantastic way to finish the season," said technical director Sam Michael. "He didn't put a foot wrong, the pit crew and the engineers got everything right as well.
"It's been a hard season for us and this is a great reward."
Montoya, fifth in the championship after challenging for the title last year, could claim his win at Interlagos was personally long overdue as well.
In 2001, his debut season, the impetuous Colombian pulled a stunning overtaking move on Michael Schumacher and dominated the race before being shunted out by Dutchman Jos Verstappen who hit the rear of the Williams after being lapped.
"It's awesome to finish the season like this," he said after the Colombian and British national anthems, for the winning constructor, had been played.
"It really pumps me up for next year and I'm really looking forward to working with Kimi (Raikkonen) next year. I think the position we are in for next year could be really strong."
Raikkonen, his future teammate who finished overall runner-up last season, was second for McLaren at Interlagos.
"I think it was a tough race," said Montoya. "I came into the race thinking Kimi was going to be the guy that had the chance to win the race.
"Before the race there are always rumours as to who's got more fuel than whom and when I heard how much fuel -- supposedly -- Kimi had I thought 'phew, he'll be hard to beat.'"
Results:
| Pos. | | Driver | | Time |
| --- | --- | --- | --- | --- |
| 1 | | Juan Pablo Montoya | | 1:28:01.451 |
| 2 | | Kimi Raikkonen | | + 1.022 |
| 3 | | Rubens Barrichello | | + 24.099 |
| 4 | | Fernando Alonso | | + 48.908 |
| 5 | | Ralf Schumacher | | + 49.740 |
| 6 | | Takuma Sato | | + 50.248 |
| 7 | | Michael Schumacher | | + 50.626 |
| 8 | | Felipe Massa | | + 1:02.310 |
| 9 | | Giancarlo Fisichella | | + 1:03.842 |
| 10 | | Jacques Villeneuve | | + 1 lap |
| 11 | | David Coulthard | | + 1 lap |
| 12 | | Jarno Trulli | | + 1 lap |
| 13 | | Ricardo Zonta | | + 1 lap |
| 14 | | Christian Klien | | + 2 laps |
| 15 | | Timo Glock | | + 2 laps |
| 16 | | Zsolt Baumgartner | | + 4 laps |
| 17 | | Gianmaria Bruni | | + 4 laps |
| r | | Mark Webber | | + 48 laps |
| r | | Nick Heidfeld | | + 56 laps |
| r | | Jenson Button | | + 68 laps |