Mercedes and tyre supplier Pirelli appear before Formula One's International Tribunal in Paris on Thursday to face charges that they broke Formula One testing regulations in Spain in May.
This factbox details the issues and potential outcomes.
WHAT IS THE TRIBUNAL?
The tribunal was set up by the International Automobile Federation (FIA) in 2010 to rule on matters submitted by the FIA to ensure that the regulations are upheld. Thursday's hearing will be the first time it has ruled on an F1 controversy.
The president is Edwin Glasgow, a British lawyer with extensive experience in commercial and general litigation who has also appeared on Premier League and Rugby Football Union disciplinary panels.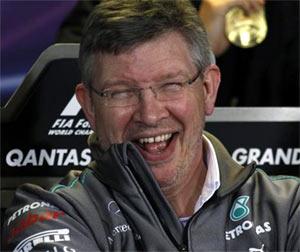 The 12 man tribunal operates completely independently from other FIA bodies. The judging panel is composed of at least three members, none of whom can be of the same nationality as any of the main parties in the case.
WHAT IS THIS CASE ABOUT?
Mercedes provided their 2013 car, along with drivers Lewis Hamilton and Nico Rosberg, for Pirelli's use at a private tyre test at the Barcelona circuit after the Spanish Grand Prix and before Monaco.
Formula One regulations ban teams from testing during the season with a current car or one from the previous season and at a track used in the championship.
Mercedes have said the 1,000km test (equal to three race distances) was organised and run by Pirelli, who are not competitors in the championship, and they had the approval of the FIA to do it.
The FIA says any approval was conditional on all teams being given an equal opportunity to test.
Ferrari, who took part in a Pirelli test with a 2011 car in Barcelona in April but face no charges, and champions Red Bull protested to the FIA at the Monaco Grand Prix when they found out that Mercedes had used a 2013 car.
Red Bull have accused Mercedes of gaining an unfair advantage.
WHO WILL BE THERE?
Mercedes team principal Ross Brawn and Pirelli motorsport head Paul Hembery will attend along with lawyers. Ferrari and Red Bull, as interested parties, can also participate.
WHAT SANCTIONS COULD BE APPLIED?
Potential punishments range from a reprimand to exclusion from the championship. The tribunal can also apply a fine or dock points.
WHAT HAPPENS NEXT?
If action is taken against Pirelli, who do not have a contract for 2014, they could walk away from the sport - leaving Formula One exposed to the risk of having no tyre supplier.
Mercedes have invested heavily in Formula One, providing engines to four of the 11 teams next year as well as supplying the FIA safety car, but there is concern within the sport that they could review their involvement if they feel the brand has been damaged.
Both parties can appeal, and the matter could be taken to civil courts.
If Mercedes produce documentary evidence that the FIA approved the test, that could threaten the position of long-serving race director and technical supremo Charlie Whiting.
Mercedes team principal Ross Brawn, who has said he took the decision to use the 2013 car, could also face pressure to resign.
If no action is taken, other teams are likely to want to carry out similar tests with their 2013 cars.
Image: Mercedes team principal Ross Brawn
Photograph: Brandon Malone/Reuters