Polish Formula One driver Robert Kubica, who has not raced since a near-fatal crash last February, was taken to hospital in Italy on Wednesday after slipping on a patch of ice and injuring his leg, the ANSA news agency reported.
It is not clear how serious the injury is and how much of a setback it would be to the 27-year-old's hopes of returning to Formula One.
The highly-rated Pole is now out of contract with his former Renault team after it was announced last year that he would not be ready to return by the start of the season. His manager Daniele Morelli was not immediately available for comment.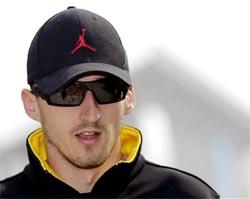 ANSA said Kubica had lost his footing on an icy street in Pietrasanta, near the coastal town of Viareggio and was taken to a local hospital for a scan of his right leg.
The agency quoted medical sources saying the driver had then left the hospital, saying he wanted to go to the clinic in Pietra Ligure, southwest of Genoa, where he had been treated after his crash.
Kubica spent two months in hospital and had multiple operations after the crash in the minor rally in Italy in which he suffered serious arm and leg injuries.