Formula One could have 20 races again next season after the sport's governing body said on Wednesday it has pencilled in an unspecified European race to make up for a postponed Grand Prix in New Jersey.
The International Automobile Federation (FIA) said in a statement that the German Grand Prix has been moved from July 14 to July 7 with July 21 now "reserved for another F1 European event" subject to approval of national bodies.
- Photos: The best and worst of Schumacher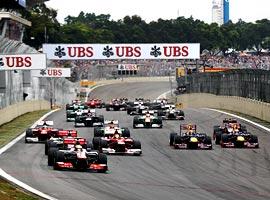 That date would be back-to-back with Hungary on July 28 while Germany would follow on immediately from the British Grand Prix at Silverstone on June 30, according to the previous provisional calendar.
Istanbul, where the FIA is currently meeting, would be one likely option with renewed talk in recent days of the Turkish Grand Prix making a return to the calendar after being dropped this year.
France, which has returned to the frame with either its Magny-Cours circuit or Le Castellet in the south, could be another possibility.
Formula One had a record 20 races this season but the absence of New Jersey, which had been due to make its debut with a race on June 16 while Valencia dropped off the list, had reduced that to 19.
Photograph: Mark Thompson/Getty Images