Czech Republic captain Tomas Rosicky said he could barely stand on his injured foot but was still hoping to play in his team's final Euro 2012 Group A match against Poland on Saturday.
Rosicky went to hospital for a scan on his Achilles on Wednesday along with keeper Petr Cech who has a sore shoulder, a day after the Czechs' beat Greece 2-1 in Group A to revive their hopes of reaching the quarter-finals.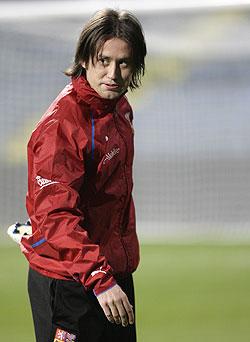 Playmaker Rosicky said he got hit in the same spot where he had experienced pain at the end of his club season with Arsenal but was happy the scan showed no damage to the tendon.
"I played three matches with this at the end of the season but it has not been as painful as it is now," Rosicky said in an interview on Czech television.
"I can barely stand on the foot but I am not giving up. If it is at least a little possible, I will play."
Both Rosicky and Cech have a 75 percent chance of playing against Poland, according to team doctor Petr Krejci.
"There is a good chance that with the help of intensive treatment we would get them both ready to play," he said.