The 2020 European Championship could be spread across 12 or 13 cities around Europe, rather than being staged in just one or two countries, UEFA president Michel Platini said on Saturday.
"The Euros in 2020 could be held all over Europe," Platini told a news conference.
"It could be in either one country and 12 stadiums, or one stadium in 12 or 13 cities. It is just an idea, but in these days of cheap air travel anything is possible."
Turkey had been favourite to host the event in eight years' time but their bid has been complicated by Istanbul's campaign to also host the Olympic Games in the same year.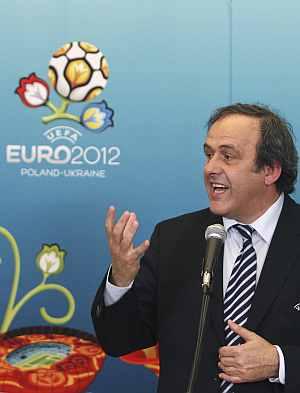 Platini said the idea for a multi-country Euros would be discussed by the executive committee who would make a decision by January next year.
"We will discuss it very seriously," he added. "We will have a great debate about 2020 and discuss the pros and cons.
"It's an idea I feel really passionate about, it will be a lot easier from a financial perspective. We are not going to wait until we know whether Turkey are going to get the Olympics.
"It creates a problem for us. We do have other candidates. Everyone has the possibility to host it.
"And it is easier to go from London to Paris or Berlin than Cardiff to Gdansk. It would be four games per venue. It is a great debate."
The current tournament, staged in Poland and Ukraine, ends with the final between Spain and Italy in Kiev on Sunday. France will host the next tournament in 2016.