Nuggets of news coming from the English Premier League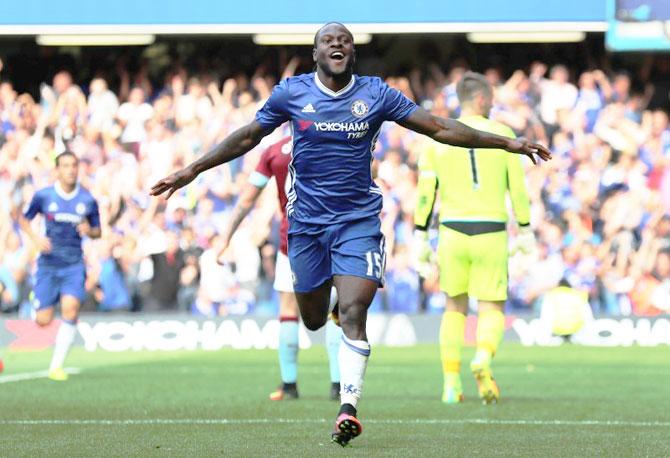 IMAGE: Chelsea's Victor Moses said the position has added responsibilities at both the attacking and defensive ends. Photograph: Eddie Keogh/Livepic/Reuters
Chelsea's Victor Moses has credited manager Antonio Conte for reviving his career at Stamford Bridge by converting him into a wing back during their Premier League title charge this season.
The 26-year-old Nigeria international Moses was previously sent out on loan for three consecutive seasons by manager Jose Mourinho before Conte arrived this season and changed Chelsea's main formation to 3-4-3.
That reshuffle brought Moses back into the starting lineup, and has helped make him one of the most consistent performers this season, making 37 appearances in all competitions.
"He (Conte) didn't say to me, 'Do I fancy playing wing back?' He just put me in there, and after that he just kept on encouraging me," Moses told British media.
"He went through what the position was all about, constantly talking to me in training to make sure I was improving in it. I took that in and I didn't look back," he said.
"I have been learning a lot defensively. And when I play against a winger...I understand what they are going to do before they try and go past me, so it makes it a lot easier."
Moses said the position has added responsibilities at both the attacking and defensive ends, but he is enjoying the experience with every game.
"You need a lot of stamina to be able to play that position, and it's a responsibility for me as well," he added.
"I have never played that position before, but I am enjoying it.. The more games I play, the better I get."
League leaders Chelsea hold a seven-point advantage over Tottenham Hotspur and can seal the title if they beat West Bromwich Albion away on Friday.
Liverpool's Henderson will return latest by pre-season: Klopp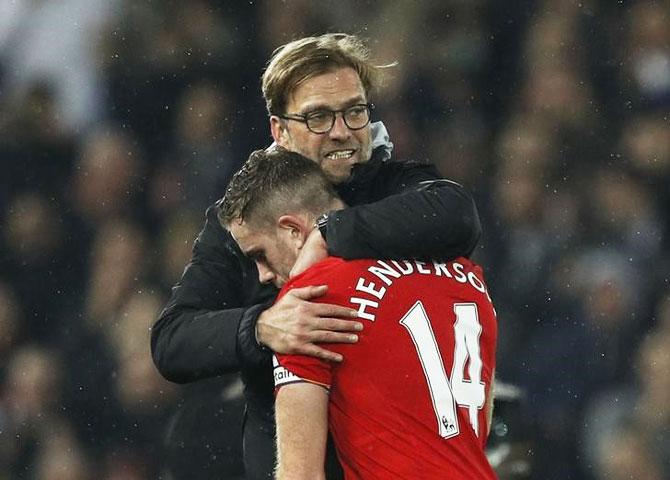 IMAGE: Henderson has suffered from recurring heel and foot injuries since the turn of the year and has made just six appearances for the Premier League club in 2017. Photograph: Phil Noble Livepic/Reuters
Liverpool midfielder Jordan Henderson will return before the start of the pre-season from a foot injury that has sidelined him since February, manager Juergen Klopp has said.
Henderson, 26, has suffered from recurring heel and foot injuries since the turn of the year and has made just six appearances for the Premier League club in 2017.
"It is too early to say," Klopp told British media.
"Next season is the latest moment of course but anything can happen. We stay positive because he is strong.
"The moment someone gives him the green light he will be back in a second because of his attitude and character. I am not thinking about the start of pre-season but that would be the latest moment he is back."
Klopp said Henderson was advised rest by the club's medical team.
"We don't know if he will back tomorrow in training or next week," Klopp said.
"Because it is Jordan and he has a really high fitness level, even if it's just swimming, we know we can think about him immediately when he is ready.
"Then we could think about the national team. If he has games he could play, if not it makes no sense. But no we did not speak."
Third-placed Liverpool travel to 12th-placed West Ham United on Sunday before their final game against relegated Middlesbrough at home on May 21.