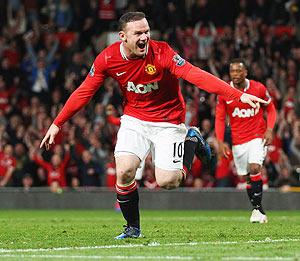 Struggling Premier League champions Manchester United is reportedly ready to commit a staggering 65 million pounds in wages to keep Wayne Rooney at Old Trafford for the next four years.
Rooney's new contract will make him the highest-paid footballer in the Premier League with a basic wage of more than 300,000 pounds-a week, and those terms will bring him in line with Barcelona's Lionel Messi and Cristiano Ronaldo at Real Madrid.
According to the Mirror, United will give the England striker assurances that the reported 200 million-pound war chest that has been handed to manager David Moyes will fund a red revolution with 20 million-pound offers for Newcastle's Yohan Cabaye and Southampton's Luke Shaw Yohan Cabaye before Friday's deadline.
The report mentioned that United is making a 37 million-pound capture of Juan Mata from Chelsea in a bid to rescue a season that has represented a spectacular fall from grace.
The club is also aware of Rooney's global status as a major reason why top players would join United despite their current slide in form and fortunes, with a source saying that securing the future of Rooney proves that they will push the boundaries in terms of wages for the right player.
Rooney, though, still wants assurances that there will be no more false promises as in 2010, his concern over the club's failure to reinvest the 80 million pounds raised by the sale of Ronaldo to Real Madrid the previous year was magnified by ManchesterCity's willingness to pay United 50 million pounds for Rooney, the report added.
Image: Wayne Rooney
Photograph: Alex Livesey / Getty Images