Wigan Athletic boss Roberto Martinez is reportedly eyeing the chance to succeed David Moyes as Everton manager after Moyes leaves the club to join Manchester United in place of the retiring Sir Alex Ferguson.
Martinez gave his hopes a boost by leading Wigan to their first-ever FA Cup success on Saturday when his team beat Manchester City, the Mirror reports.
According to the report, although Everton chairman Bill Kenright may be concerned about the prospect of appointing a manager who is facing relegation if he stays with the Wigan, however, the FA Cup success may ease any doubts Kenright has about the Spaniard.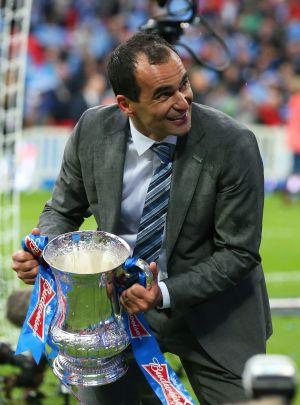 However, the report further said that Martinez faces strong competition from Cardiff City boss Malky Mackay and former England player Phil Neville, also a former Everton star, where he had played for eight seasons, adding that Neville has significant support within Goodison Park despite him lacking managerial experience.
The report also mentioned that Everton bosses have been impressed with Mackay since he led Cardiff to a Premier League promotion, although it added that it would cost Everton about £three million to prise Mackay away from Cardiff.
Martinez, who has turned down offers from Aston Villa and Liverpool to stay at Wigan, may want to take Wigan FA Cup heroes James McCarthy and Callum McManaman with him to Goodison Park, the report added.
Photograph: Alex Livesey/Getty Images