Tottenham Hotspur manager Andre Villas-Boas said the club could fine forward Gareth Bale for failing to attend training ahead of an expected world record "dream" move to Real Madrid.
Bale, who has not been training with the squad due to injury, was granted three days off but did not report back to the club on Tuesday despite being pictured in London.
"(We) gave the player the weekend off, Monday was a day off for the squad; obviously he is involved in a big transfer move to Real Madrid. In the end if it happens we wish him all the best," Villas-Boas told reporters on Wednesday.
"He left here with great memories and the fact that he hasn't turned up; I don't think it is the correct behaviour, but in the end that's the position of pressure and... that's the position that he chose to take.
"It's up to the club now to decide if it's a fineable offence."
Speculation about Bale's move to nine-times European champions Madrid has mounted in recent weeks, and Villas-Boas acknowledged that the deal should be sealed before the transfer window closes on September 2.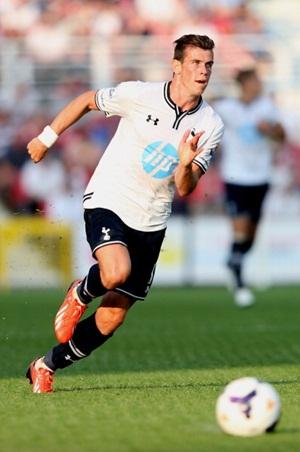 "At the moment the two clubs are speaking, Tottenham and Real Madrid, a final decision or final statement and drafts of the contracts, I'm not sure how much time it's going to take.
"It could happen very, very soon, it might not happen so soon, so I suppose it could happen on the last day, it could happen in the next two days, I'm not sure."
STUNNING CAMPAIGN
Wales international Bale enjoyed a stunning Premier League campaign last season, scoring 21 goals in 33 league appearances, and appeared to thrive in a free-role under Villas-Boas.
Despite that, the Portuguese coach said he did not feel let down by the ongoing saga amid reports of a world record 86 million pounds ($133.64 million) transfer to Madrid.
"What is happening is a dream move for him..." said Villas-Boas on the eve of Tottenham's Europa League playoff second-leg tie at home to Dinamo Tbilisi on Thursday.
"This (transfer) can happen in a different way, in the end there will be a three way agreement so... Tottenham will accept most likely the biggest transfer in world football."
Tottenham have reportedly been upset at some of the actions of the La Liga giants, including selling shirts with Bale's name and erecting a platform for his presentation at the Bernabeu.
Villas-Boas also previously criticised Madrid coach Carlo Ancelotti for publicly speaking about their attempts to sign Bale, but he did not want to talk about Madrid on Wednesday.
"I'm not going to comment on the actions the other club has taken, I showed my disappointment before. I think Carlo did extremely well because he didn't speak from that moment onwards."
Spurs have spent close to 60 million pounds strengthening their squad in the close season, bringing in Spain striker Roberto Soldado, Brazil midfielder Paulinho, Belgium winger Nacer Chadli and France midfielder Etienne Capoue.
The club has been linked with AS Roma forward Erik Lamela and Steaua Bucharest defender Vlad Chiriches, and Villas-Boas said they were still looking to bring in more players.
However, he ruled out bidding for Chelsea's Juan Mata, saying their London rivals would not sell the midfielder to Spurs who they see as Premier League title challengers.
Image: Gareth Bale
Photograph: Mark Thompson/Getty Images