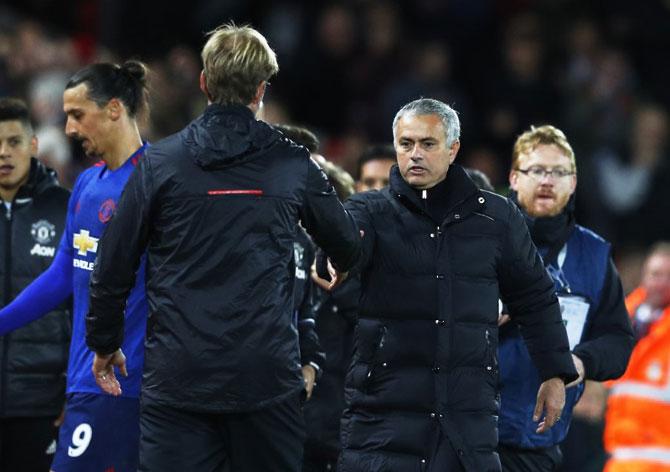 IMAGE: Liverpool manager Juergen Klopp and Manchester United manager Jose Mourinho at the end of the match on Monday. Photograph: Phil Noble/Reuters/Livepic
Manchester United manager Jose Mourinho has accused Liverpool of being the 'cautious team' in a dull goalless draw in their Premier League clash at Anfield.
- After the hype... Liverpool and Man United deliver drab draw
United nullified Liverpool, a side which had scored nine goals in their previous two home games, with Mourinho selecting a defensive line-up.
Both the teams got plenty of chances to break the deadlock in the second-half of the match, but none of the team was able to put the ball behind the goal post.
United striker Zlatan Ibrahimovic, who was the lone striker for Anfield, had a great chance to open his side's account in the first half when he contrived to head Paul Pogba's curling cross away from the Liverpool goal.
Yet, the United boss has claimed that it was Jurgen Klopp's side which approached the north-west duel with a defensive mind-set due to the presence of Emre Can and Jordan Henderson in central midfield.
"We stopped them playing but they also did very well from the defensive point of view," the Guardian quoted Mourinho as saying.
"They played Can and Henderson for some reason and they did that for 90 minutes when they normally project more players in attack."
The 53-year-old Portuguese further said that Liverpool were very cautious.
"They always kept Can and Henderson in position. They had only one player behind the three more offensive players. I think it was their intention to try and control us, which they also did well," he said.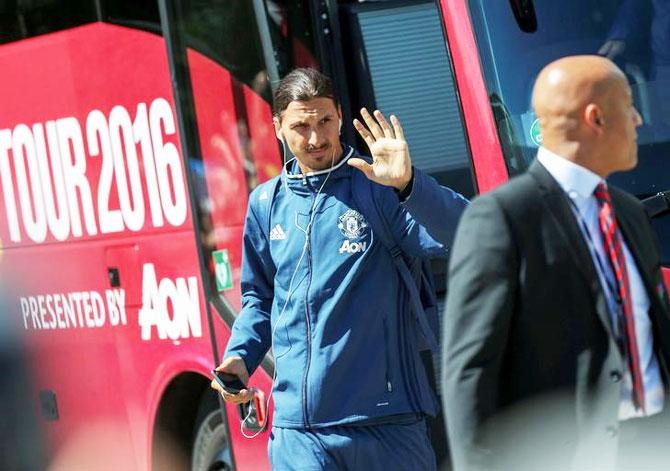 IMAGE: Manchester United's striker Zlatan Ibrahimovic. Photograph: TT News Agency/Bjorn Larsson Rosvall/via Reuters
Meanwhile, United striker Zlatan Ibrahimovic has vowed to be more clinical in front of goal after miscuing a header in Monday's goalless draw at Liverpool.
Ibrahimovic, who has struck four Premier League goals this season, combined with Paul Pogba for United's best moment at Anfield, only for the Swede's close-range header from the Frenchman's cross to bumble harmlessly across goal.
"I needed to chase the ball instead of attacking the ball, but still I should have put it at least on the target. But the next game, I will do better," Ibrahimovic told reporters.
"I think the game was a good game, a difficult game at the same time. I mean away against Liverpool -- Liverpool are unbeaten against the top teams...I think it was a good result."
United are seventh in the league standings, five points behind leaders ManchesterCity, and Ibrahimovic said the club were determined to mount a title charge.
"The season is long. I see many teams are losing points at the same time. Any week, different things can happen so it is important to win the games you need to win and stay on the top," he added.
"I mean, if you win two games in the row you're on the top. That's the way it has been so far. If we can get the wins we need to win the points then we are in touch, but it is a long season."
"We are there, we are fighting, we are getting points. We just need to click and then it'll be easier."
With the result, Liverpool's four-game winning streak has come to an end and they have also missed a chance to move level on points at the top of the Premier League table.
Meanwhile, United are currently languishing down on seventh spot with 14 points.
Liverpool will now lock horns with West Brom while United next travel to Chelsea in the league on Sunday.